Lake Sonoma 50 Race Report
Posted by ekr on 12 Apr 2022
Last weekend I raced the Lake Sonoma 50 mile up in Northern California. In ultra circles, Sonoma is well known for being very runnable, which—in the ultra context—means that there aren't a lot of long or steep hills and it mostly consists of dirt fire roads and smooth non-technical single-track (i.e., one person wide) trails, so you can plausibly run almost the whole thing if you are strong. This is by contrast to some other races I've done like Bigfoot 73, which were steeper and had more difficult footing, so as a practical matter you were going to be doing a lot of hiking.
There's almost nothing in Sonoma that I couldn't have run on its own or in a 25 mile event, but it has around 10,500 ft (3000m) of elevation gain (and also 10,500 ft of loss because it's an out and back course), which means that it's full of rolling hills and small creek crossings and you're almost never running on the flats. To do well you have to have good fitness and the discipline to keep the right pace and so it seemed like a good opportunity to test out my early season fitness, so I put my name into the lottery and got waitlisted, but then apparently a lot of people decided not to do it, as they cleared the waitlist and then re-opened entries to everyone. This gave my training partner Chris a chance to sign up and we ran most of the race together.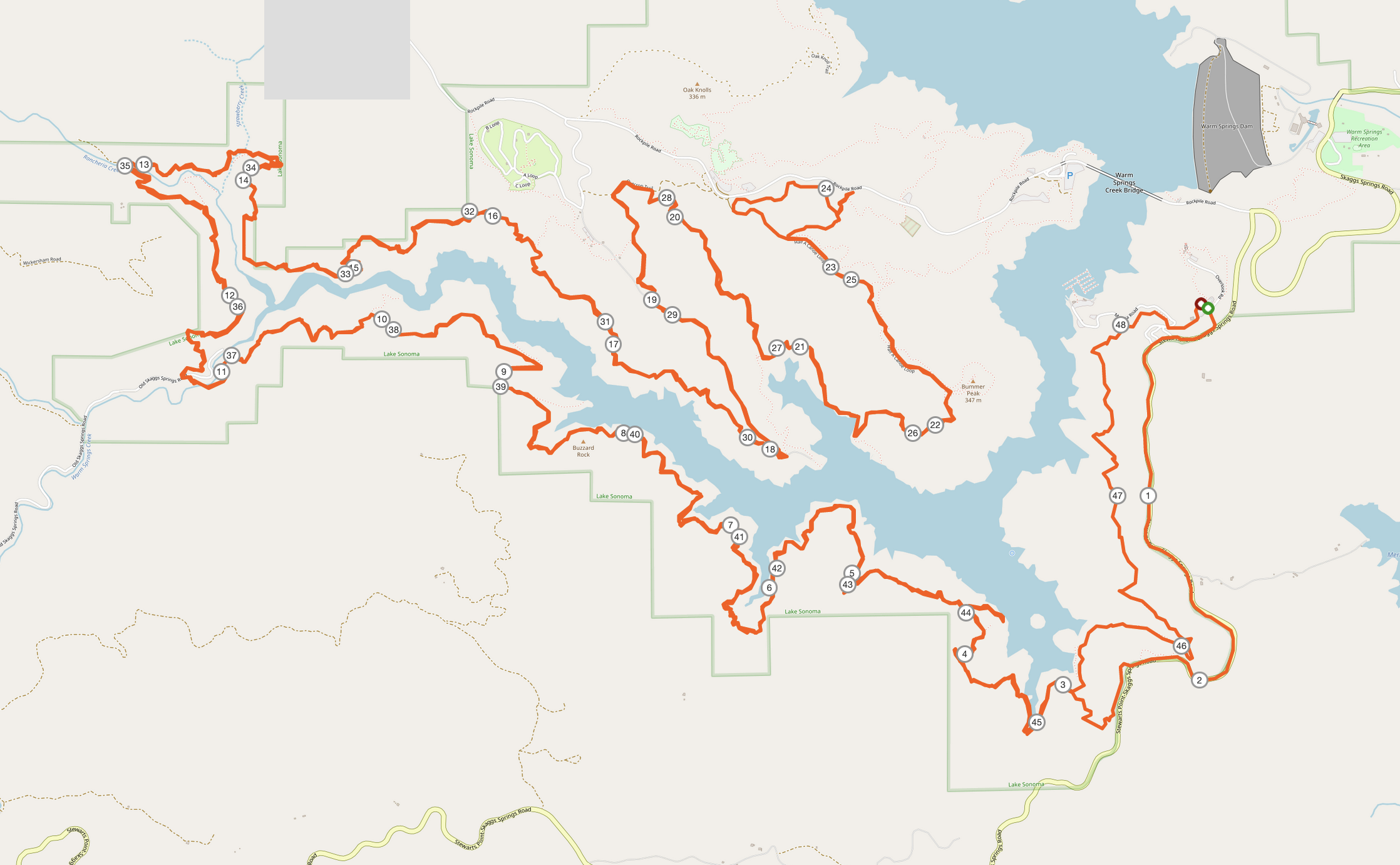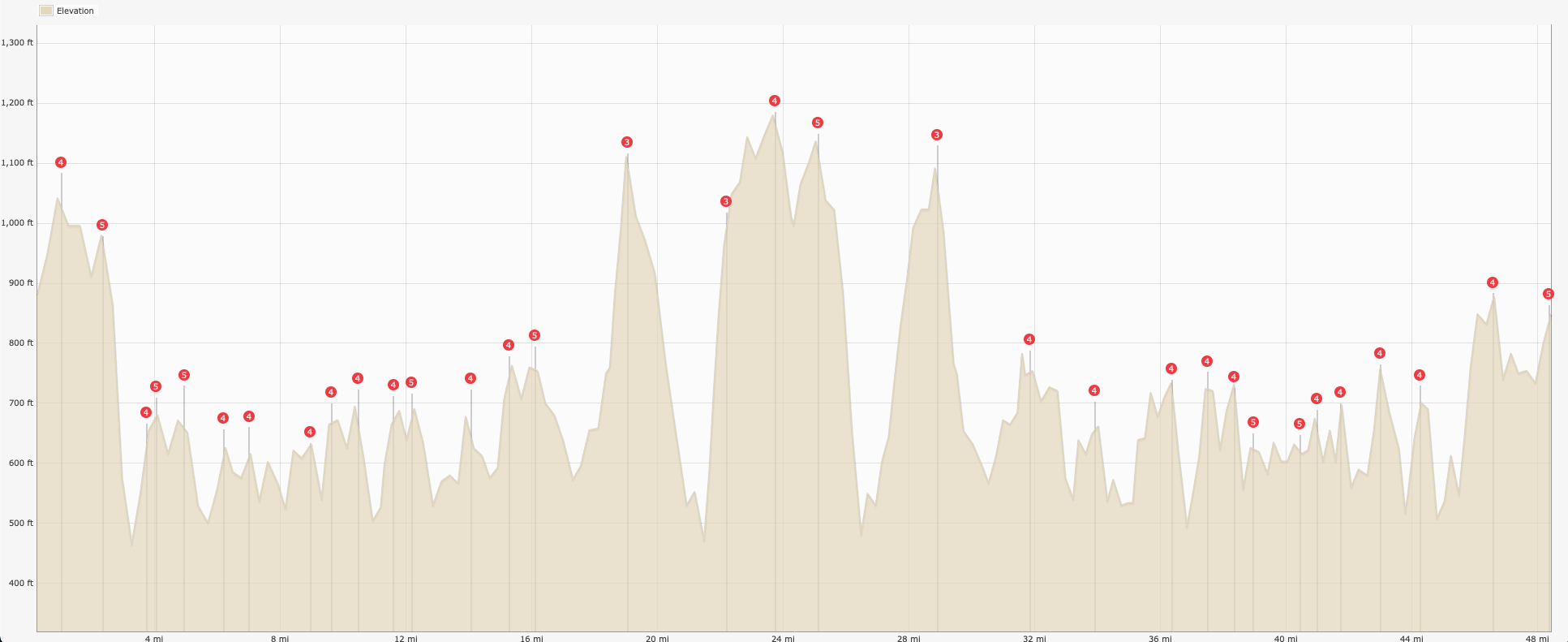 [Screenshots from Runalyze]
My plan here was to run the first 25-30 miles at "long run" pace, which is basically what people would call an "easy" effort level (for me this ranges from about 8:00/mile on the flats to 12:00/mile on the a very hilly course) and then try to maintain it for the second half, which is of course progressively harder as the fatigue builds up. I had been doing my long runs on comparable courses at about 11:00/mile, so I was hoping for low 9 hrs (50 miles at 11:00 is 9:10). This didn't entirely work out and I definitely slowed down throughout the race, coming in at 9:44:09, which was good enough for 47th (out of 252 finishers, 310 starters). This is about the 40th percentile of my expectations. In retrospect having seen the course low 9 hours seems too aggressive, but I do think I could have done <9:30 if I had paced things better. On the other hand this is quite a bit faster than my previous 50 PR, which was on the easier Firetrails 50.
Pre-Race #
Sonoma logistics are pretty easy. It's only a few hours away and Chris and I drove up the afternoon before and stayed in Healdsburg about 20 miles from the race start. We managed to pick up our race packets (including your race number) that afternoon so it was possible to prep everything the night before and then just show up at the race start. Regrettably we got there just as main parking closed so had to drive about a quarter mile to overflow parking (up a hill, which was really not amazing to walk up afterwards). Got to the start in plenty of time to use the bathroom (twice!) and take a pre-race photo (not online yet) with Chris, my friend Lisa, and some of her friends, who were doing their first 50.
It was about 45-50 at the start so I got a bit cold standing around for 25 min, but of course the day warmed up soon enough and I'd rather be cold at the start than really hot later in the day.
Start to Island View [4.26 mi, +725/-988 ft] #
The first 2.4 mi or so are on the road, so even easy distance pace is fairly fast. This was good because we started out a bit too far back in the pack and ended up gradually working our way up through the pack by the time we hit the singletrack and the sharp downhill. It wasn't too congested at this point and we mostly just settled into a pace with the other people in our general pace range. Generally, I'm a little faster than average on the flats and uphill and slower on downhill, so there was some yoyoing, but we tried not to do too much passing unless it was a real problem, because we'd just get passed right back.
We rolled through Island View at a really hot pace (<10:00/mile) and were still feeling good. It's water only on the way out so we didn't even bother to stop.
Drinks and Gels #
If you're gonna run for 10 hours you're going to need to eat some stuff. Each race serves different stuff at their aid stations but generally there will be at minimum some kind of sports drink (basically carbohydrates + electrolyes) and some kind of "gel", which is basically a carbohydrate paste. There are a lot of different companies that make this stuff and each one has a different mix of macronutrients and different flavors, so it's very possible you'll like one just fine and find another disgusting. My drink preference is Tailwind, which is pretty common but not ubiquitous; I'm less picky about gels. Before a race I usually figure out what they are serving and try it out beforehand to see if I can stomach it (literally). In this case, Sonoma was serving Gu Roctane which I've had before and like OK.
Island View to Warm Springs [6.97 mi, +1,421/-1,447 ft] #
This next section is pretty much all single-track rollers and, we were still feeling strong. We ended up in a paceline behind a group of women who were all working together and given that the pace seemed about right, we just sat behind them through the next aid station. As before, the basic pattern is we'd pull back a bit on the downhills but then catch up on the uphills and flats. During this section we were running the uphills until we were caught up; they were hiking some of the uphills so we would hike behind them to the top of the climb, then repeat.
We were still going really fast into Warm Springs, though even at this point it was starting to feel warmer. Had a little bit of a glitch at the aid station because they were (at least I thought) only serving the Strawberry Lemonade Roctane, which is caffeinated and I didn't want to start on caffeine this early. I was down to 200 or so ml Tailwind at this point so I just filled up with water water and then had a gel + water, which should be roughly equivalent to 250ml Tailwind.
Warm Springs to Wulfow [5.05 mi, +1,138/-909 ft] #
We were a bit slower coming out of the aid station but quickly caught back up with the pack we had been running with. This section was on average more up than down and you can see our pace starting tall off a bit to 11:30/mi (10:05/mi GAP) but it still looks pretty good. This section was still quite smooth and I was still feeling strong. Because of the Tailwind issue, I was consuming more like 200cal/hr than my target of 300 cal/hr here but otherwise things were pretty fine. Wulfow is water only, so I just refilled on water and (I think) grabbed a gel, as it was only 2 miles to Madrone.
Wulfow to Madrone [2.06 mi, +302/-331 ft] #
This time we got out of the aid station ahead of the pack, but there is a sharp downhill right after, so our previous pack was on our heels pretty quickly. There didn't seem to be too much interest in passing us, so I just lead almost all the way to Madrone. Towards the very end it opened up into uphill fire road and so things got a little jumbled. This is actually the steepest climb, but it was early enough in the day that it didn't feel too bad.
Madrone had decaf Roctane so I was able to completely fill my bottles. At this point it was starting to get a fair bit warmer, so I was starting to drink some fluid at the aid station and then fill my bottles.
Madrone to No Name [5.86 mi, +1312/-1066 ft] #
The pack sort of separated at this point and Chris and I found ourselves pretty alone for the big descent out of Madrone. This is when we started to see the first people coming the other way, which meant they were about 7-8 miles ahead of us at this point.
We knew that there was a big climb and then the lollipop around the halfway mark, so we were just kind of anticipating the climb, and it was a relief when we finally got there. It's just a long trudge up that and we naturally hiked. It's fire road so we just passed some people and got passed by others. We were still seeing a substantial number of people going the other way, but we also knew we were ahead of the main body of people. It was definitely a relief to get into the lollipop, though, because then you're no longer having people pass you going the other way (except for a short out and back to the aid station).
We rolled into No Name at 4:24, which was pretty far ahead of schedule and I was starting to have visions of a sub-9 finish (4:25 * 2 = 8:50, right?). I stopped at the bathroom and drank a bunch of fluid as I was definitely starting to feel hot and dehydrated. I also was able to grab my drop bags which had extra Tailwind bottles, so I could be back on Tailwind for the next few hours. Also grabbed my buff and had some ice put in it. This aid station stop was pretty long, 5:14, but we were still out right at 4:29, so ahead of plan.
No Name to Madrone [5.22 mi, +933/-1230 ft] #
Chris and I did this section pretty much on our own again, and it was slower than it should have been. The rollers from the lollipop to the big descent were starting to get to me and the the descent was steep enough that we mostly just jogged down it without taking it too fast, which did nothing for our pace. Then it's some rollers and the climb back up to Madrone, which we hiked.
At Madrone I had the opposite problem as before which is that I wanted caffeine but they didn't have either caffeinated Roctane or Coke, so I ended up just grabbing a caffeinated Gu, which has only 35 mg of caffeine.
Madrone to Wulfow [2.09 mi, +348/-315 ft] #
This section is where we really noticeably started to slow down. As opposed to before, we were hiking any significant uphill, rather than just when we were behind someone or it was really steep. My theory here is I was starting to get tired and that I wouldn't be moving much faster—if at all faster—if I was running, so I was conserving energy a bit. At this point I was definitely starting to feel pretty hot and dehydrated, and also maybe a little stomach discomfort from drinking a lot of water at Madrone. Wulfow was water and gels but unfortunately no salt, and I was running out of my own salt tabs. Can't remember if I grabbed another caffeinated Gu here.
Wulfow to Warm Springs [5.07 mi, +919/-1125 ft] #
This was probably the hardest section for me, both in how I felt and in terms of of my pace, which was the worst of the race, both absolutely and grade adjusted pace (GAP). As above, I was running out of salt and just generally starting to feel kind of beat. We were hiking anything that was even modestly uphill and even so it was tough. Was just generally feeling kind of wobbly and the log bridge that was a little iffy on the way out felt downright scary. However, I also started to notice that I was gapping Chris more and more on the uphills, though he'd mostly catch up on the downhills. This isn't too unexpected as I'm a stronger hiker, but it was the first time it was really happening.
Fortunately, this section was a little shorter than we expected, so we managed to get into Warm Springs OK. This was the longest aid station stop at 5:23, mostly because we were messing around with drinks, etc. This was the last set of drop bags and so I had another Tailwind bottle. They also had Coke so I pulled out my third bottle and ended up with one Coke, one Tailwind, and water (?). Had to wait a bit for Chris to leave this aid station as he was still getting ready to go.
Warm Springs to Island View [7.09 mi, +1417/-1470 ft] #
Started to feel better in this section, probably due to the caffeine, and I shifted out of "hike when it won't be much slower" mode into "run whenever you can" mode. About 3 miles in I noticed that I was really starting to gap Chris and so he gave me the car keys and I went ahead on my own, trying to push the pace as much as I felt comfortable with, consistent with still having 9ish miles to go. You can see this in the pace, which was faster than the previous two segments and with the GAP being quite a bit better. At this point I was starting to really pass a lot of people, including finally catching the last of the women from the pack we were running with.
Still was pretty glad to see the turn off down to Island, as that meant I was <5 to go. Hit the aid station and was frankly a little disoriented and spent some time filling up on Coke and trying to figure out which gels had caffeine even though I had Coke in my bottles. Left the aid station right as Chris rolled in.
Island View to Finish [4.66 mi, +1010/-676 ft] #
Hiked the hill out of Island View and then really tried to get into the vibe of "fast finish", given that I had less than 5 miles to go and I've done plenty of fast finish runs where you run the last few miles harder. Was still a bit unstable on my feet and tripped a bunch of times. Stayed up but it made me cautious. Was really just feeling like I needed to get to the big climb out and then into the final rollers. Hiked that part and then just tried to push through to the finish. Spent the last two miles chasing the two guys in front of me and felt like I closed on them a bit but never quite enough to catch them.
Right leg started to cramp a bit in the last mile or so but just toughed it out and it want away. Was able to finish strong, and it's nice to be under the round number of 9:45 (9:44:09). Chris came in at 9:46:69, so he must not have lost much if anything on me the last segment.
Retrospective #
A bit of a mixed result. On the one hand, I think it's clear I went in with too high expectations about what I could do here; I don't think sub-9 or even 9:15 was in reach, at least on this day. It wasn't crazy hot, but it did get to 80ish and I hadn't done any heat training. Sunday was a lot cooler and I think that might have shaved 10-15 min off my final time.
My pacing was a bit off here. I think if I hadn't gone out as hard and gotten to halfway in more like 4:40, I would have had a decent shot at 9:30 even on this day. I also wonder whether it would have been better to push more in the third quarter. I lost a lot of time there and clearly I was able to pick up the pace when I needed to in the fourth quarter. I'm not sure how much longer I could have sustained that, but maybe it would have been better to go more evenly in the last half. I did know that the rollers would be tiring but I don't think I anticipated how tiring they would be in the second half and how tempting it would be to hike.
I more or less hit my nutrition plan. My target was to drink half a bottle of Tailwind or Roctane every 3 miles (as a proxy for every half hour) and a 100 cals of gel or bar every 6 miles, for a total of ~300 cal/hr. I mostly managed this except where I got thrown off by aid station logistics and then towards the end when I was subbing in coke. I rotated my gels reasonably well so I never got too tired of anything and was glad to have Spring gels so it wasn't quite so much all space food. I had some Maurten gels in my drop bag but opted not to use them because of not trying new stuff on race day.
Wore my Salomon Pulsars the whole way and I have mixed feelings here. On the one hand they're super light, but the platform is really narrow and they're more for toe strikers and the traction isn't great so I slipped a bunch of times that I don't think I would have in (say) the Sense Pro/4s, which are my usual race shoe. Also, you're really not going that fast so having a super lightweight seems less important than it would be on a shorter race; you're not going to be going all-out. This will probably be my last race with them as the new Salomon shoes are out soon and the Pulsars are definitely too light for UTMB.
My going in expectations aside, this is arguably a pretty good result. Top 25% of finishers and almost top 15% of starters is better than I've finished in a long time. I was top 3rd at SOB and just barely top half at Bigfoot, so this seems like an indicator that this is actually a comparatively better performance than usual, even if the time isn't quite what I was hoping for.
Results Summary #
Finish Time: 9:44:09
Actual distance: 48.4 miles
Finish Place: 47th overall, 37th male, 310 starters
| Segment | Distance | Elevation | Time | Pace | GAP |
| --- | --- | --- | --- | --- | --- |
| Island View | 4.26 mi | +725/-988 ft | 39:29 | 9:16/mi | 8:25/mi |
| Warm Springs | 6.97 mi | +1,421/-1,447 ft | 1:12:27 | 10:23/mi | 9:17/mi |
| Aid | - | - | 1:30 | - | - |
| Wulfow | 5.05 mi | +1,138/-909 ft | 58:03 | 11:30/mi | 10:05/mi |
| Aid | - | - | 0:26 | - | - |
| Madrone | 2.06 mi | +302/-331 ft | 21:48 | 10:36/mi | 9:52/mi |
| Aid | - | - | 1:49 | - | - |
| No Name | 5.86 mi | +1,312/-1,066 ft | 1:08:18 | 11:39/mi | 9:54/mi |
| Aid | - | - | 5:14 | - | - |
| Madrone | 5.22 mi | +988/-1,230 ft | 1:03:12 | 12:06/mi | 10:36/mi |
| Aid | - | - | 2:09 | - | - |
| Wulfow | 2.08 mi | +348/-315 ft | 26:42 | 12:51/mi | 11:45/mi |
| Aid | - | - | 1:02 | - | - |
| Warm Springs | 5.07 mi | +919/-1,125 | 1:07:13 | 13:16/mi | 11:56/mi |
| Aid | - | - | 5:23 | - | - |
| Island View | 7.09 mi | +1,417/-1,470 ft | 1:29:26 | 12:37/mi | 11:08/mi |
| Aid | - | - | 2:44 | - | - |
| Finish | 4.66 mi | +1,010/-676 ft | 57:12 | 12:16/mi | 10:32/mi |