Adventure Run Report: Northern Yosemite 50
Bears, bears, bears
Posted by ekr on 29 Oct 2023
After a kind of disappointing—but still the right call—decision to DNF at Teanaway 100, I found myself with a big pile of fitness, nothing planned for the rest of the year, but not really ready to just call it a season and start thinking about 2024. There weren't any races left I wanted to do, so instead I decided to try one of the adventure run loops that I had been eyeing for the summer but had to put off because the record snows in the 2022/2023 season kept the Sierras impassable late into the season, specifically another Leor Pantilat route that he called the Northern Yosemite 50.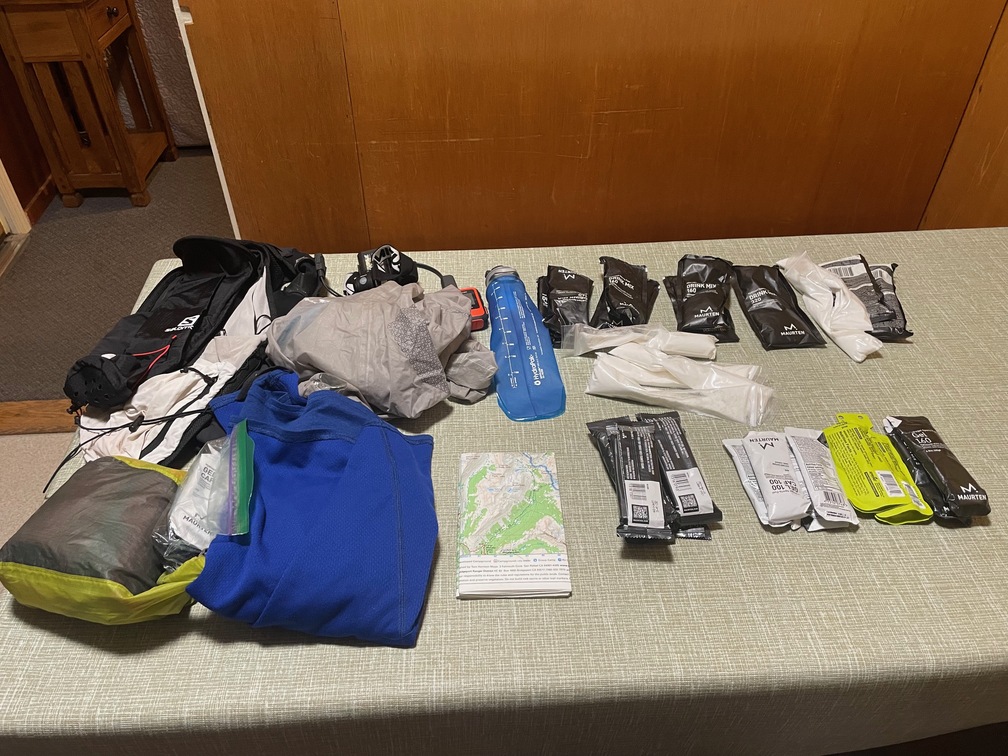 Fortunately, my former training partner Chris Wood (now sadly reduced to running loops around Central Park in NYC) was in town, so we were able to do it together. Chris was actually already in Yosemite Valley, so we drove out separately and stayed at the Willow Springs Resort (a bit rustic but friendly and reasonably nice), which is about 30 minutes away from the start of the route at Annett's Mono Village. The "village" itself is basically a paid RV campground, but there is a big parking lot on the lake which seemed to be free. There was a "No overnight parking" sign, but we didn't expect to be there too far into the next morning in the worst case, so just left a note saying we were out trail running and hoped it would be OK.
The route is a big lollipop of just around 50 miles and 10000 ft of climbing, starting at Twin Lakes in the Hoover Wilderness at around 7000 ft, then quickly climbing above 9000 and mostly staying above there until the last 5 miles or so, with a high point of 10300 ft. Pantilat did it 15:28 and so I figured we were looking at at least 16 hrs and probably more this, which is a pretty long day this late in the season (sunset is around 6:00), so we decided on a 5 AM start, which mean that both the beginning and end would be on headlamp.
Start to the Loop [7.15 mi, +2246/-157 ft, 2:22:16, 19:56/mi, 15:41/mi GAP] #
The first 7 miles or so are the "stem" of the lollipop, a steady climb of about 2500 feet. It was really cold at the start (~45 F) so I was in gloves and a jacket and Chris was in a warm shirt and gloves, both of which were pretty much the uniform for the rest of the day as it never really warmed up. We got a little scare right as we were passing through the campground at the start when we saw a black bear rummaging through the garbage cans. The bear seemed more interested in trying to find food than in bothering us but we gave it a wide berth anyway.
As usual for the start of a run, we were fresh, and the trail itself is in pretty good shape for the Sierras and was still easy to find in the dark, so went pretty smoothly. In any case, we got to the junction quickly and were definitely thinking that this was going to be a fast day. As it turned out, we were shortly to be punched in the face by reality.
To the PCT [8.47 mi, +846/-997 ft, 2:50:17, 20:06/mi, 18:27 GAP] #
This next segment is comparatively flat and pretty early on we passed Peeler Lake, which is spectacular: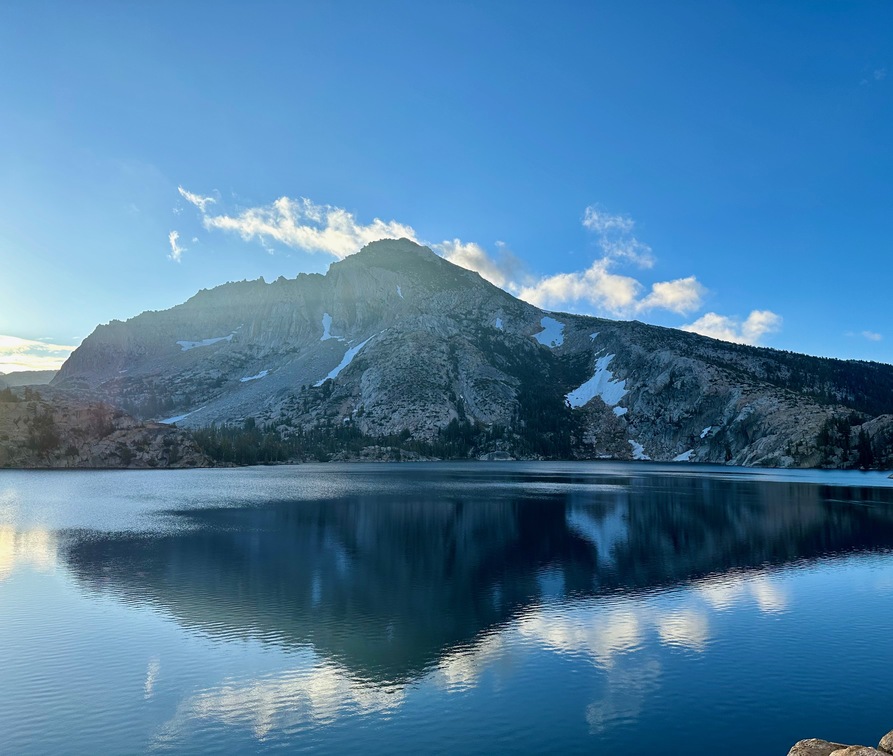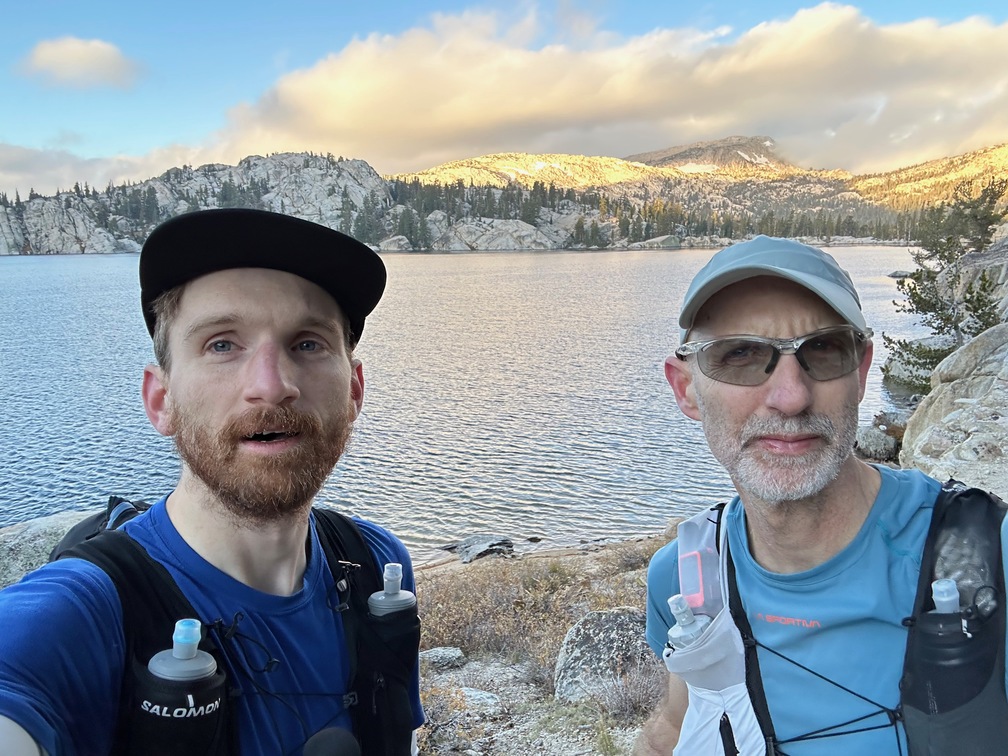 This section is a bit interstitial in that it's pretty flat but you know you have some big climbs ahead of you. We would have expected to be able to move pretty fast on this segment, but due to a combination of the terrain and trying to take it conservatively we actually slowed down a fair bit. There were two factors here. First, even though a lot of this was smooth trail , it was also frequently really narrow single track cut into a meadow which I found hard to run without hitting my legs against the side. It was also somewhat gently rolling and were very deliberately walking anything that went uphill at all.
It had finally started to warm up to mid 60s and I was starting to be able to feel my hands again. It never got much warmer than this, and so we managed to stay pretty well hydrated. We'd started out with plenty of fluid (2l for me and 2.5l for Chris), with a target of about 500ml/hr, which meant that we had to start filtering water in this segment. Fortunately, there was water everywhere, whether in lakes or streams, so from here on in we kept to about 1l each. We only had one filter (Hydrapak 42mm), and were both using sports drink—you have to filter into the bottle and then add the powder, not the other way around—so the whole filtering/mixing thing slowed us down.
On the PCT [14.94 mi, +3258/-3793 ft, 5:32:15, 22:14/mi, 18:32/mi GAP] #
Finally we hit the junction for the Pacific Crest Trail. From here it's a sharp downhill to the low point of the loop (~7600ft) followed by two steep climbs, first to around 9500 ft and then above 10000 ft. The first of these is 1795 ft over 2.77 mi, for an average of 12.3%, so we made pretty extensive use of our poles.
I was really starting to feel the altitude and was definitely ready for the half-way point, which is basically at the dip between the next two climbs. We hit the halfway at just under 9 hrs, so it seemed like we were still on track for a <18 finish, especially as the last 7-10 miles were downhill. This is where I was planning to start with the caffeine and so I sucked down a Maurten Gel CAF 100. These take about 30 min to kick in but after that I started to feel a lot better. From here on, it was caffeine every 2 hrs to the finish.
From the pass at about 26 miles, it's a long downhill to around 30, where we leave the PCT again. This was another one of those sections where you would have hoped to be moving a lot faster, but in practice it was all pretty rocky and/or rutted single track so instead was a lot of hike/jogging where you'd run a bit and then have to walk to avoid some rocks, so this turned out to be a slog. At this point, Chris and I were both really hoping for the next climb to start, both so we could get it over with and because I actually find it more fun to go up in this kind of terrain because you wouldn't be running anyway, so it's not as frustrating that you can't.
Chris was also feeling altitude and had a bad headache, so when we stopped around here to filter water, he took some ibuprofen. There's been a movement away from ibuprofen in ultra, but the concern here is mostly about stress on the kidneys, and with only 20 miles to go in the cold, this didn't seem like that big a concern.
Last two Climbs [10.21 mi, +2864/-1234 ft, 3:48:21, 22:22/mi, 18:08/mi GAP]. #
We finally hit the bottom and then it was time for the last big push As you can see from the elevation profile, it's about 2100 feet over 6.4 miles, but it's really more like 850 ft over 4.4 miles (very gentle) and 1300 ft over 2 miles (quite steep), so there was a lot of hiking up shallow slopes and waiting for the real climbing to begin.
Throughout the whole approach to the pass, we could see dark clouds gathering ahead of us. The weather reports had been for some light rain in the mid afternoon, but that was for Yosemite generally and of course any weather forecast in the mountains has to be treated with some skepticism, so we mostly just crossed our fingers and pushed on. It never really rained on us, but by this time the sun had started to go down again and we were starting to get cold again.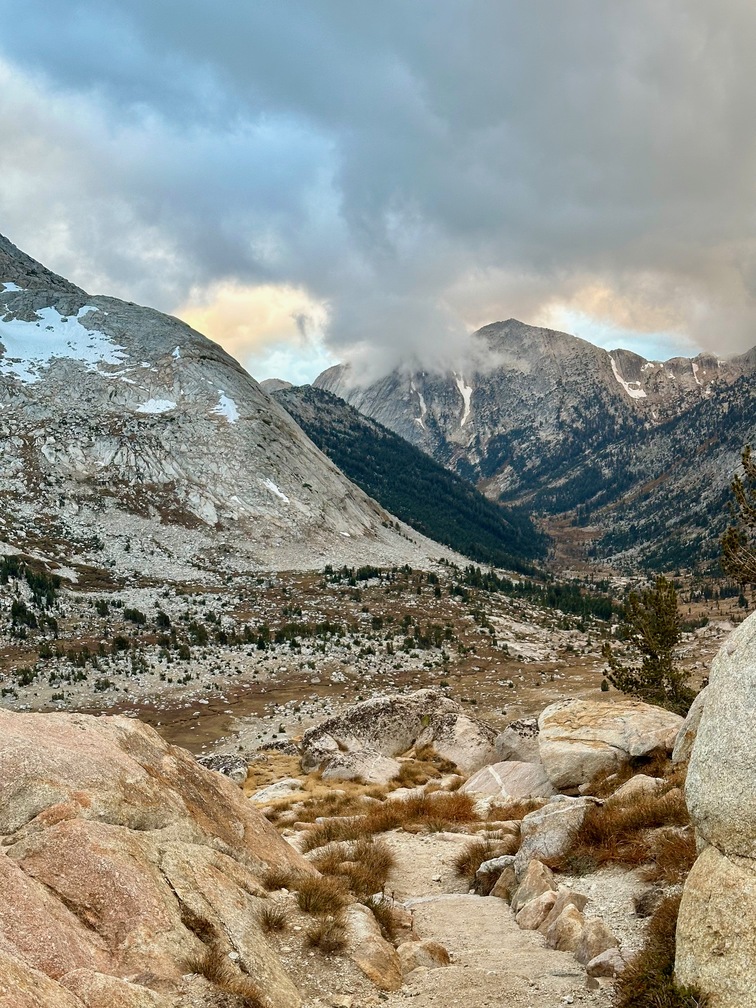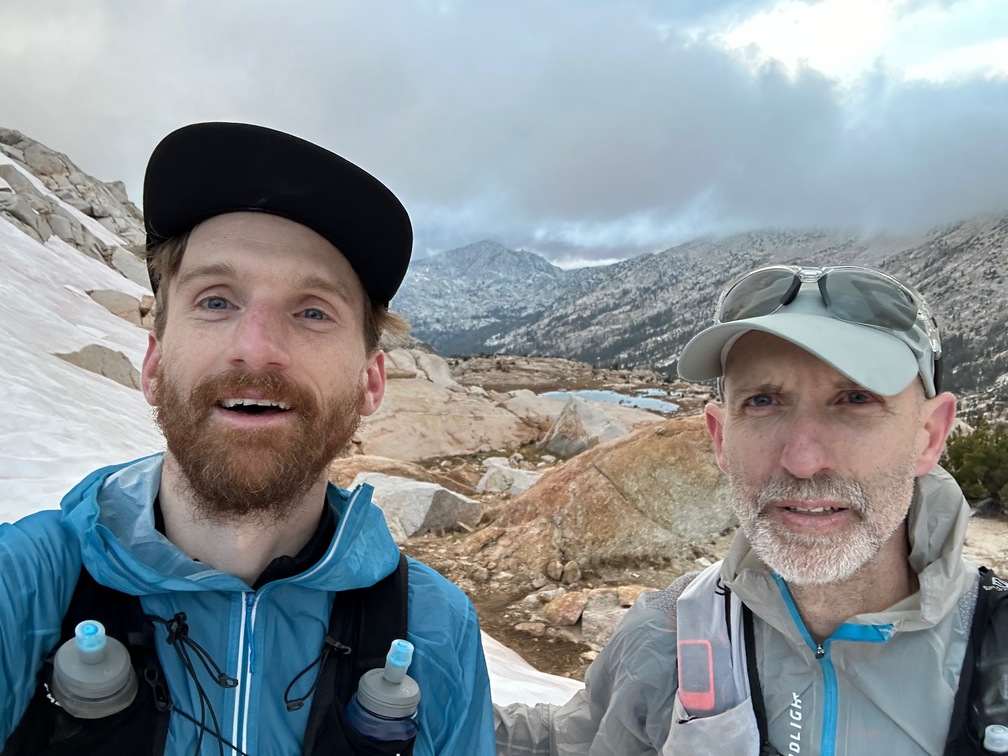 From the first pass, it's a steep descent and then the final climb of 1000+ feet over 2 miles. We'd expected to do some of this climb on headlamp, but actually we needed light a bit earlier, towards the end of the descent. I was carrying my ridiculously bright Lupine Neo (~170 lumens but still blinding on the second step out of 4), so for a while it was just me leading the way with Chris not even needing his own light.
Climbing in the dark is nice and peaceful, even if you're also getting cold and a touch of altitude sickness, and we were still happy to hit the top of the pass, telling ourselves it was just an easy cruise in. Of course, it's really an easy cruise of around 11 miles in the dark, which isn't actually so easy.
Back to the Start [10.99 mi, +591/-3609 ft, 4:10:55, 22:50/mi, 22:08/mi GAP] #
Conceptually, this last segment comes in two pieces:
Around 4 miles back to the junction of the loop
The 7 or so miles to the start, which we'd already been on
With typical runner psychology, our thinking here was that we "just need to get to the junction" because from there it's straightforward. In practice, however, this turned out to be one of the trickiest sections because (1) it was in the dark (2) the trail was really rocky (3) the trail was faint in places it was covered in snow. We got off-trail a number of times and had to spend a long time trying to figure out where it was. The process here should be familiar:
Watch shows you're off trail
Go in some direction to see if you can find it.
Watch shows you're going in the wrong direction
Pull out the phone with the better map (optional)
Finally spot a section of rock and dirt that looks more heavily used and head towards it
Obsessively look at your watch for the next two minutes to see if you're really back on trail
This obviously takes some time and caused us to really slow down in this segment. This is also where I started to fall off my nutrition; I had been pretty religiously doing 500ml of either Maurten or Tailwind + a gel or a bar every hour, but as we got closer to the finish I started thinking I didn't need to drink as much and didn't want to stop to filter. We had been drinking so much earlier that I was still well hydrated, but I got behind on my calories a bit. Fortunately with only a few hours to go I still had some buffer.
Finally, we hit the trail junction and the last descent. To be honest, this seemed a lot easier coming up, and we had both remembered it as being quite smooth and theoretically runnable, but in practice it wasn't really that runnable, so there was a lot more hike/jogging than was really ideal. The last 3 miles or so are genuinely runnable, even on headlamp, and we did run those, especially the last 1.5 miles, which are pretty much fire road.
It wasn't all smooth sailing, though: about .5 miles out Chris rolled his ankle on a rough piece of ground/rock/whatever. He walked it off but then did it again in another 200m or so. At this point our priority was avoiding injury (he's racing JFK 50 in less than a month) so we jogged it in nice and easy, at least until we got back to the campground where—again!—we saw a bear. Two, actually, a cub and what we assumed was its mother: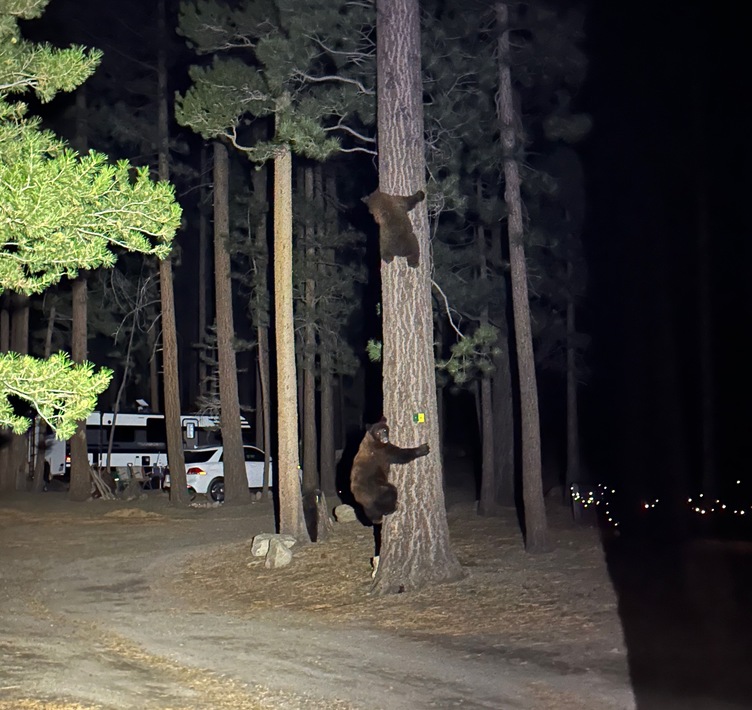 We did the usual thing where we gave them space and made a lot of noise and fortunately they didn't chase us. From here it's an easy jog to the finish, the car, and a five hour drive home to Palo Alto.
Retrospective #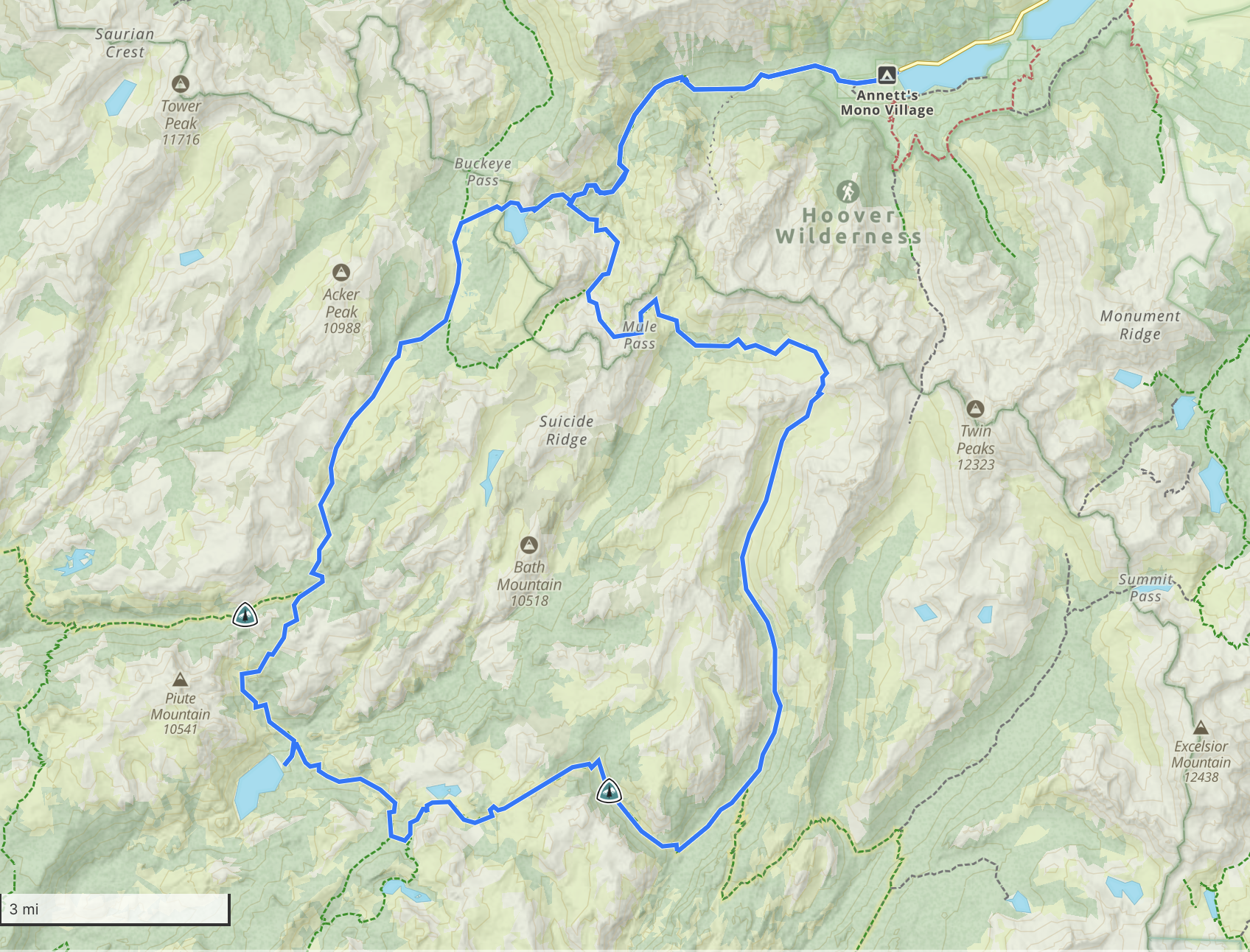 This was rather harder than I expected. For comparison, when I did Tenaya last year I averaged 19:54/mi as opposed to 21:43/here. I attribute that to several factors:
We had to do a lot more of this in the dark. I did Tenaya in midsummer and it was light almost the whole way. We were at least a minute faster (20:53) for the first 35 miles and clearly slowed down a lot as it got darker.

This was much rockier. Tenaya had a lot of smooth downhill sections (e.g., the run down from Glacier Point) where you could really open up, but there's basically nothing like that here.

With two of us, the filtering takes twice as long. If you have to filter every 2 hrs and it takes 5 additional minutes to filter, then that's almost an additional minute right there.
The main thing I would really change is that I wish I had brought warmer gloves, because the tips of my fingers were cold for the last 5 hrs or so. It was never so cold that I was really worried about damage, but it also wasn't pleasant. I have a lightweight pair of waterproof mittens that I wore at Desolation Wilderness, and I wished I'd brought those.
With that said, this was overall a pretty good day. This was really long but we finished strong and uninjured. I managed my nutrition well and managed to maintain about 300 cal/hr except for the last couple hours and I never bonked or felt thirsty. The altitude got to me a bit but I was able to manage it OK, even above 10000 ft. Given how I felt going into this, especially after Teanaway, I'm going to call it a success.
Overall: 51.8 mi, 9790 ft, 18:44:03, 21:43/mi