Tenaya Loop Adventure Run 2: Redemption
A break from the usual tech content for some running content
Posted by ekr on 08 Jul 2022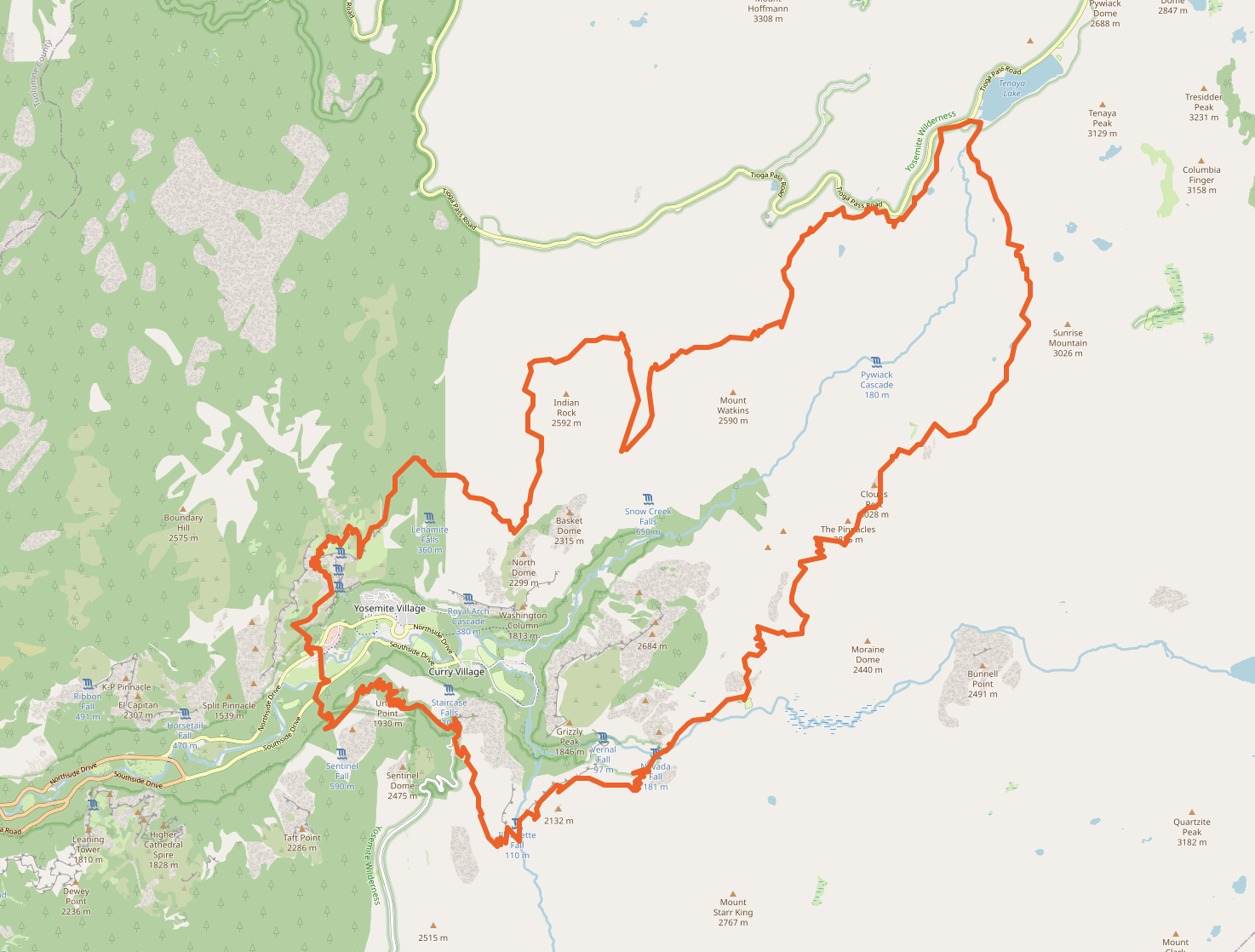 [Map and profile via Runalyze]
Last year, my training partner Chris Wood and I ran the Tenaya Loop route around Yosemite. This route was pioneered by former ultrarunning and current FKT star Leor Pantilat. It turned out to be harder than we expected, and we ended up bailing out partway through.
This year I was scheduled to do Old Cascadia 50 on June 18 as a warmup for Ultra-Trail du Mont-Blanc (UTMB), but that got rescheduled to October because of too much snow and so I decided to take another crack at Tenaya. In the event, I had to make a last minute trip to Brussels on the 19th, so I had to reschedule Tenaya to Saturday June 25. Flying in from Europe on Wednesday evening and then driving to Yosemite on Friday doesn't give you ideal performance, but it's what we had, and I guess good prep for how tired I expect to feel the second half of UTMB.
Logistics #
Last year Yosemite reservations only let you in after 5. This year the rules are that you need a reservation if you come in between 6 AM and 4 PM but not if you enter earlier or later, which was convenient for me because I wanted to be on the trail before 6 to maximize light. I decided to stay at Yosemite Riverside Inn, which is on Highway 120 right en route to the Tenaya Lake trailhead. It's not luxury, but it's fine.
I went to bed around 8:30, got up at 3:00 and was at the trailhead by 5:00. Last year the whole parking lot was under construction so you had to park at the side of the road and there were no bear lockers or bathrooms, but now it's been totally renovated and there are some reasonably new/clean pit toilets and a whole rack of bear lockers. This is a much better experience as you get to use the bathroom before you start. And while you're technically only forbidden to leave food in your car overnight—and I'd brought a BearVault BV500—it's a lot more reassuring to have it in the lockers. The bear canister only stops the bears from taking your food, not breaking into your car to get it.
I mentioned above, you don't need a reservation or a permit, but you're still supposed to pay the entry fee. However, there aren't any rangers around at 4ish when I got in or 10ish when I left, so I still owe the National Park Service money. Call me!
Start to Nevada Fall [12.8 mi, +2211/-4364, 3:32] #
The first stretch quickly climbs from the trailhead up to the top of the whole route at just under 10,000 ft. It's flat at the very beginning, but I only made it about a mile or two before it headed upward and I unpacked my poles, which I ended up using for almost the whole rest of the day.
In theory this route then takes you by Cloud's Rest, but for some reason I can't seem to read the map properly and so I missed Cloud's Rest for the second time in a row. I think the confusion here is that the top of the climb is right where you turn, so I just got focused on going straight down. I did stop to put my poles away, which was already kind of a mistake because that's when a bunch of mosquitos decided it was time to swarm me. This set the pattern for the rest of the day: most times when I stopped I would get a bunch of mosquitos on me. I had brought sunscreen but not insect repellent, and just kept hoping that it would go away, so I ended up alternately ignoring it and desperately trying to swipe them away as I did whatever I stopped to do.
The descent from here is pretty nice and reasonably smooth, eventually linking up to JMT. I didn't feel as fresh for this part as I was hoping to or as I did last year, but it didn't go that badly. Things start to get a lot more crowded after the JMT merge, I suspect because of people doing Half Dome, but people are typically good about getting out of the way when they see you running down. Pro Tip: there are some bathrooms at the Little Yosemite Valley campground.
Nevada Falls past Glacier Point and to the Valley [23.9 mi, +11.1 mi, +2041/-3993, 3:06] #
The Nevada Falls junction on this route is a bit confusing because there is a short trail down to a vista point that you don't take, but you do go partway down JMT to another vista point and then turn around and head up to Glacier Point. Last time we went down way too far, but this time I just went down to the vista point and turned around. This section is on hard rock with a cliff face on the uphill side and there was quite a bit of water run-off and general spray, so it was hard to stay dry. This actually would have been nice later in the day, but not so much at 9:30. On the other hand it was reassuring to know there was plenty of water.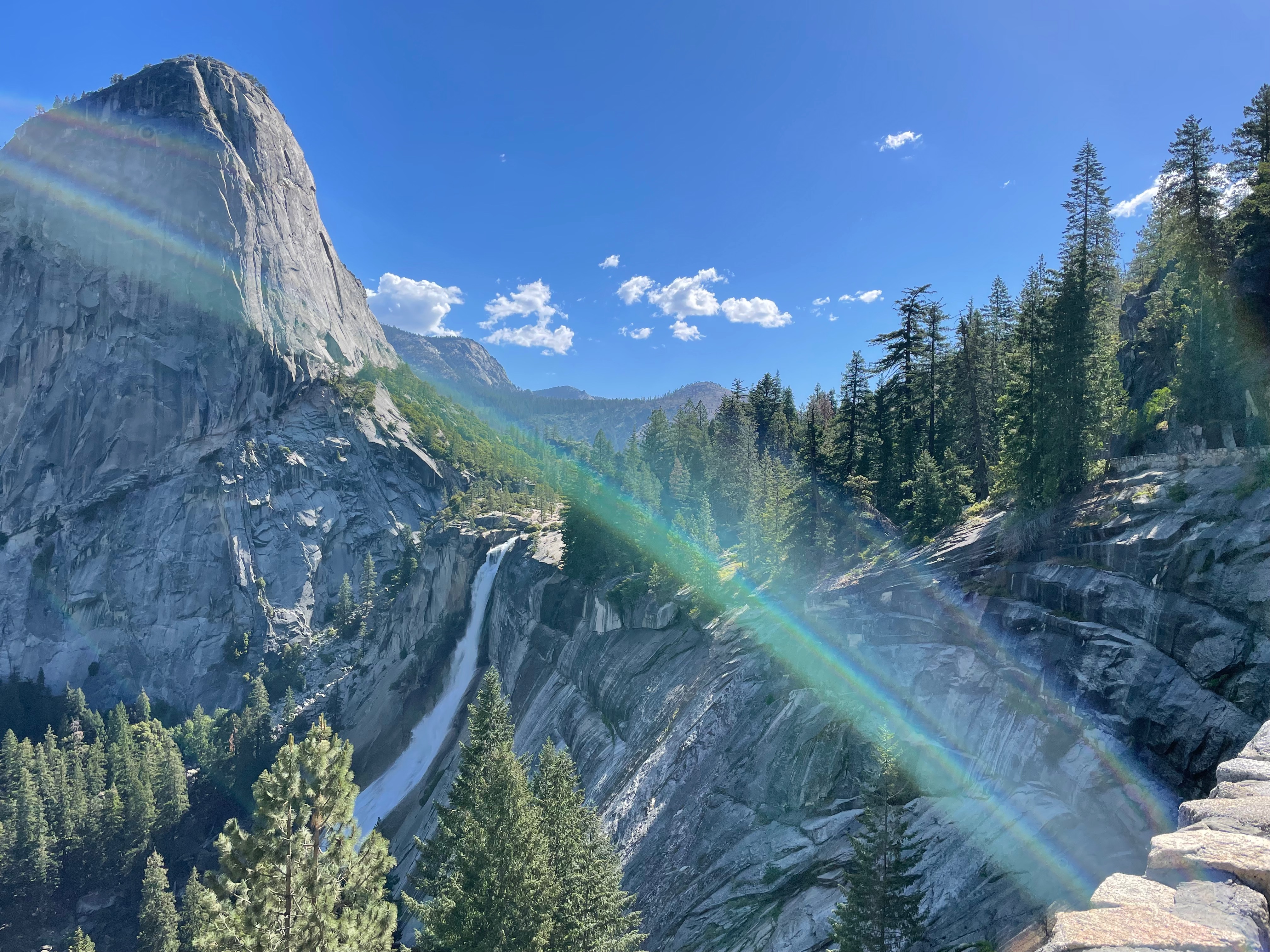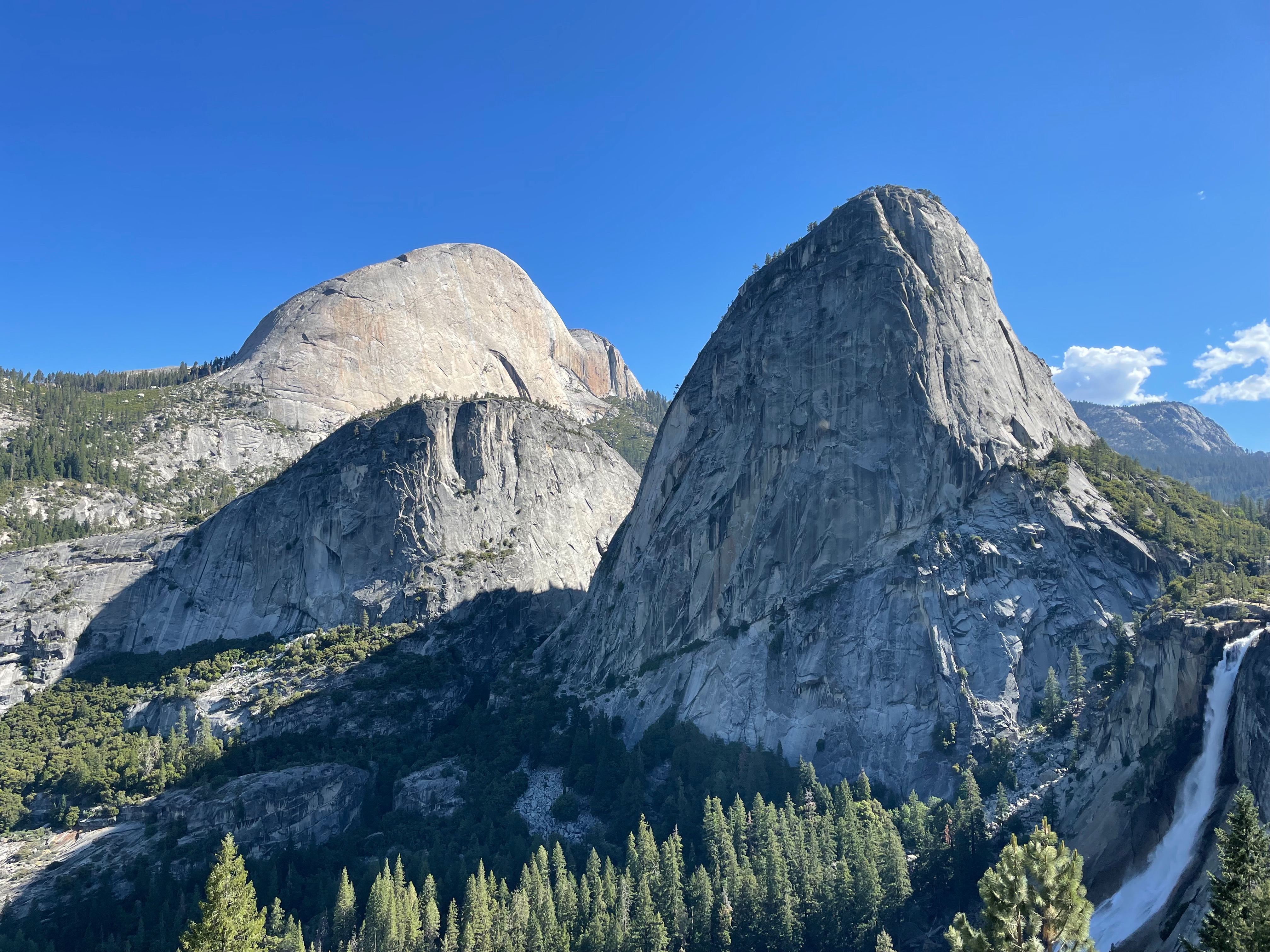 From this vista point you just turn around and head back to the trail junction and then up the Glacier Point trail. This is a longish uphill grind, so I got the poles back out and headed up. As you start out on the trail, there are a bunch of signs warning about how there is no way to get up and back from Glacier Point except walking, there are no rangers, no water, etc. This was slightly worrisome: I had a filter so I didn't need water taps but the higher you get the less there tends to be surface water, and I had already drank about a liter out of the two liters I started with.
When I got to Glacier Point there were still a fair number of people there, which isn't surprising, as it's really only about 4 miles (though about 3000 ft) from the Valley, and the trail is reasonably good. As advertised, there weren't any services, so a few photos and I headed down.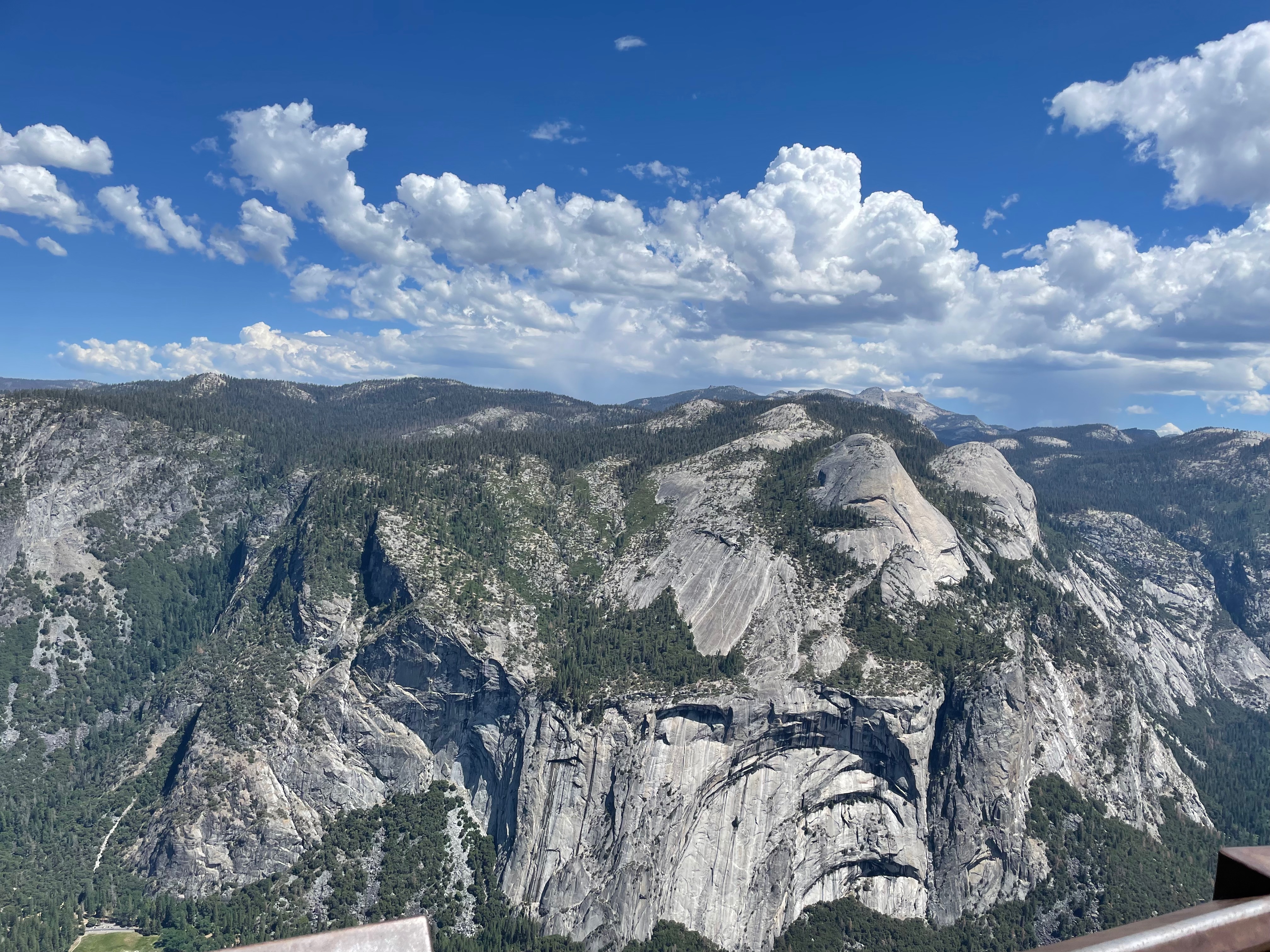 Going down is the easy part #
One thing I've noticed trail running at big tourist locations like Yosemite or the Canyon is that people are super impressed when you tear by them going downhill (I know because they say something). This has always felt a little odd to me because the hard part of these events is the climbing and I'm not going down that fast (this is what fast looks like). OTOH, you're mostly hiking up these grades—or at least I am—so I guess it doesn't look that impressive, even though it's more effort.
Because the trail drops ~3000 feet in 4 miles, you—or at least I—have to be pretty cautious, so I was going to run down, but not just bomb down it. I wanted to practice descending with poles so I kept them out. I think on balance this made things easier: every time there's something a little technical or sketchy you can plant your poles and use them to stabilize. They're also useful for helping get over any rocks or whatever you might need to jump over. I don't think I put them away at all for the whole rest of the run.
By this time, the trail was starting to get reasonably hot and I was starting to worry about fluid. Fortunately, about halfway down I was glad to find a little stream that let me fill my water bottle and drink a half liter or so and then fill it up. I don't remember this being there last year and it gave me a little boost as I cruised down into the Valley feeling pretty good.
Valley to Yosemite Point [29.45 mi, +5.55mi, +3461/-417, 2:53] #
Last year we didn't know any better and went over to Yosemite Lodge to get water, but the route goes right through Camp Four which has bathrooms and running water, so I headed there instead. Had a slightly bad moment when I stopped at the Information booth and asked if there was any water in Yosemite Falls and she said "no", but then said "there's water in the falls but no tap" which is the answer I actually cared about. Anyway, I filled up all four of my bottles with water and Tailwind (in the process discovering that I think I lost two of my Tailwind sleeves on the trail, sorry about that!).
Threw away my trash in the nearby garbage, threw on my headphones[1] and headed up the climb to Yosemite Point. This is by far the hardest part of the route, gaining over 3000 feet in under 6 miles, with 2700 feet coming in the first 3 miles. The trail is a lot of stair steps and stair-step like stuff, so you're using your poles a lot. I find the trick here is just to try to maintain a constant pace and back off a little if you get tired, but not actually stop. I mostly managed this, except for 5 minutes or so when I stopped in the shade and did some pack management, swapping out my bottles, grabbing food, putting on sunscreen, etc. Other than that, it's just a matter of slogging your way to the top. Fortunately, it's not too exposed, so while it's hot, you're not just baking. On this day, it actually started to drizzle a bit and I started to wonder if I was going to need my rain gear, but it never really did much.
The trail gets a big faint between Yosemite Falls and Yosemite Point and last year we got a bit lost here, which is part of what lead to bailing out. This year it was a bit easier, partly because I had seen it before, partly because I had more time left, and partly because I was less tired. In any case, I made it to Yosemite Point just fine.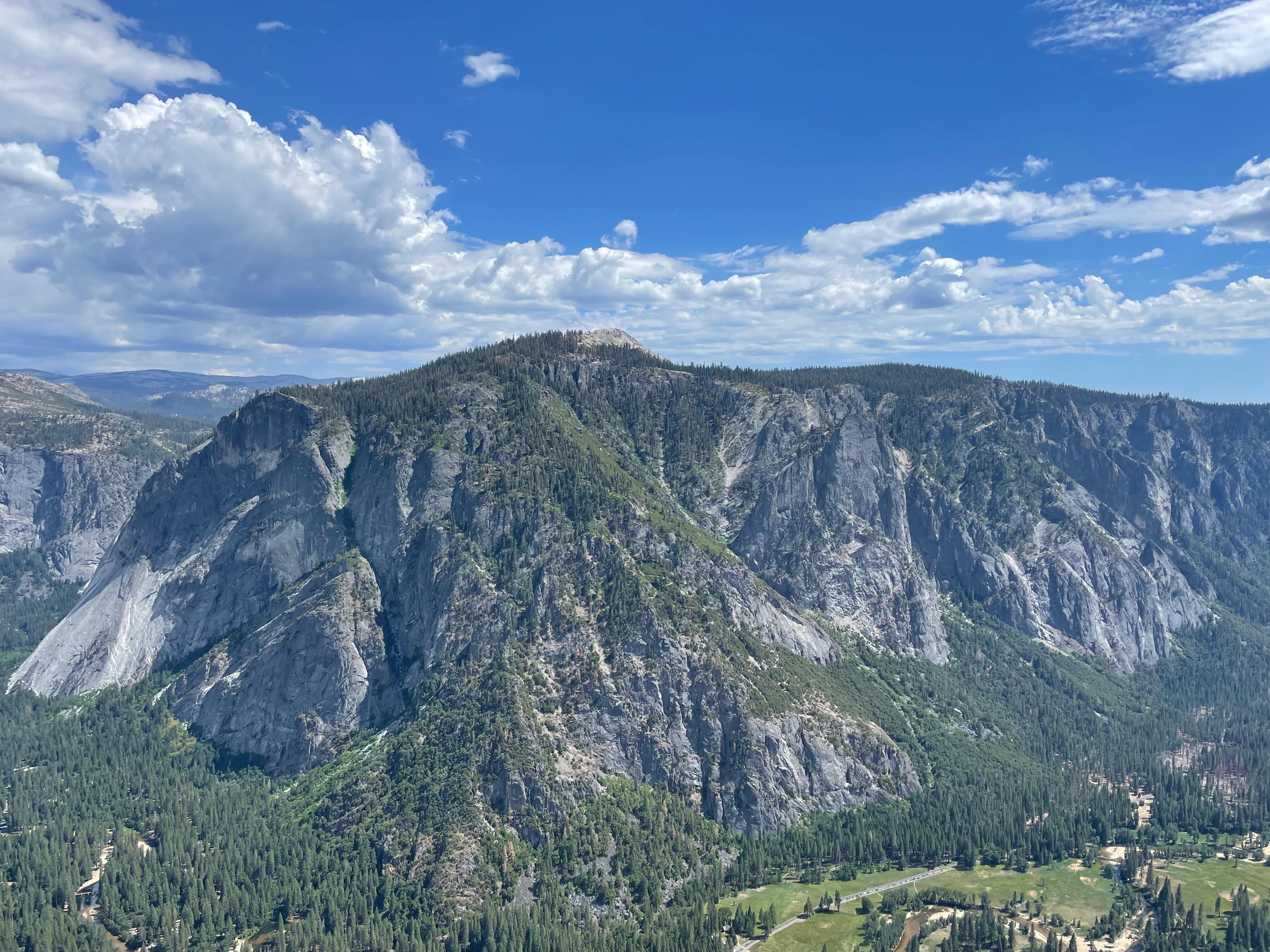 Yosemite Point to Finish [32.7 mi, +3.25 mi, +994/-469, 1:12:52] #
The next segment is flattish, taking you to the North Dome trail. It was a relief to be on something runnable after all that climbing. I'd seen the first 2ish miles before, up to the intersection to Porcupine Flat, where we bailed last year, and after that it was uncharted territory.
Eventually I got to the intersection with the trail to North Dome. This is another out and back—though it seems pretty flat—I must have been getting a little low on calories or something because I stared at the map for a while and then managed to head out precisely in the wrong direction, which is to say onward to the end, rather than to the out and back to North Dome. I only realized this after I'd climbed about a mile or so and was wondering where the heck the top was; at that point I wasn't heading back, so I just missed that view, I guess.
Somewhere on this leg, but not quite sure where, I saw a bear cub cross the trail, followed by a somewhat larger bear, potentially it's mother. They sort of ran around for a while with one on each side of the trail, and for obvious reasons, I wasn't excited about getting in between them. I tried making a lot of noise, singing, etc. which I wouldn't say was super successful. Eventually just kind of stood there until they wandered off (sorry, no pictures!). Once they were out of sight I headed on past trying to sing a bit to let them know I was there; this is surprisingly hard to do at 8000 ft, and I definitely felt the altitude.
From here it's about four miles of easy gradual downhill and then another long gradual climb of about 1400 ft towards a vista point at about 41 miles. This is the last big climb, so I relaxed a little bit and enjoyed the view.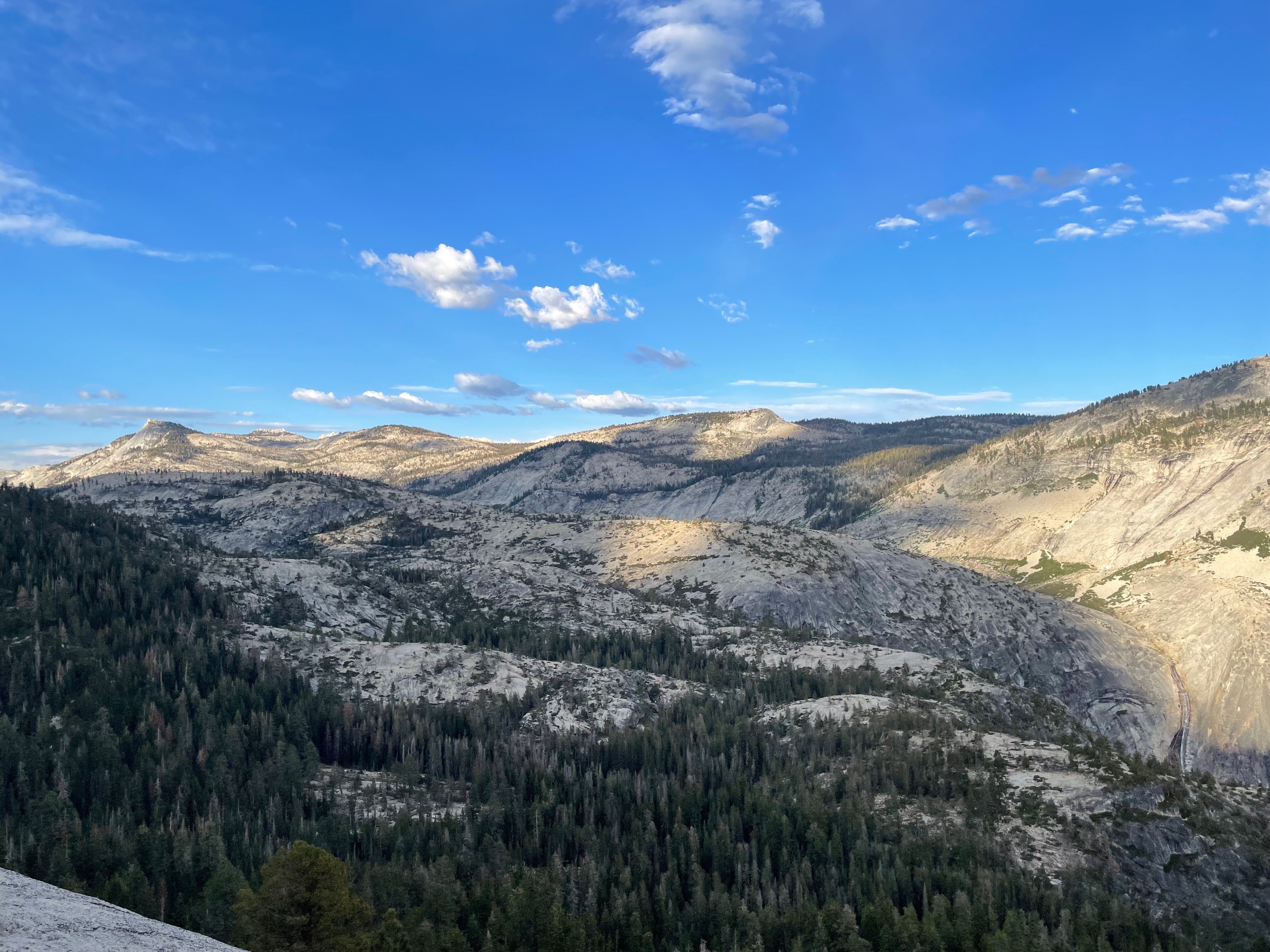 Things are pretty straightforward from here. There's a pretty gentle climb put to near Tioga Road and a final vista point where I ran into a couple of guys all set up for stargazing with chairs, tripods, and a bottle of wine (you can see some of that in the foreground of the picture below). We talked for a few minutes, I got one final shot of the sunset and then headed back down.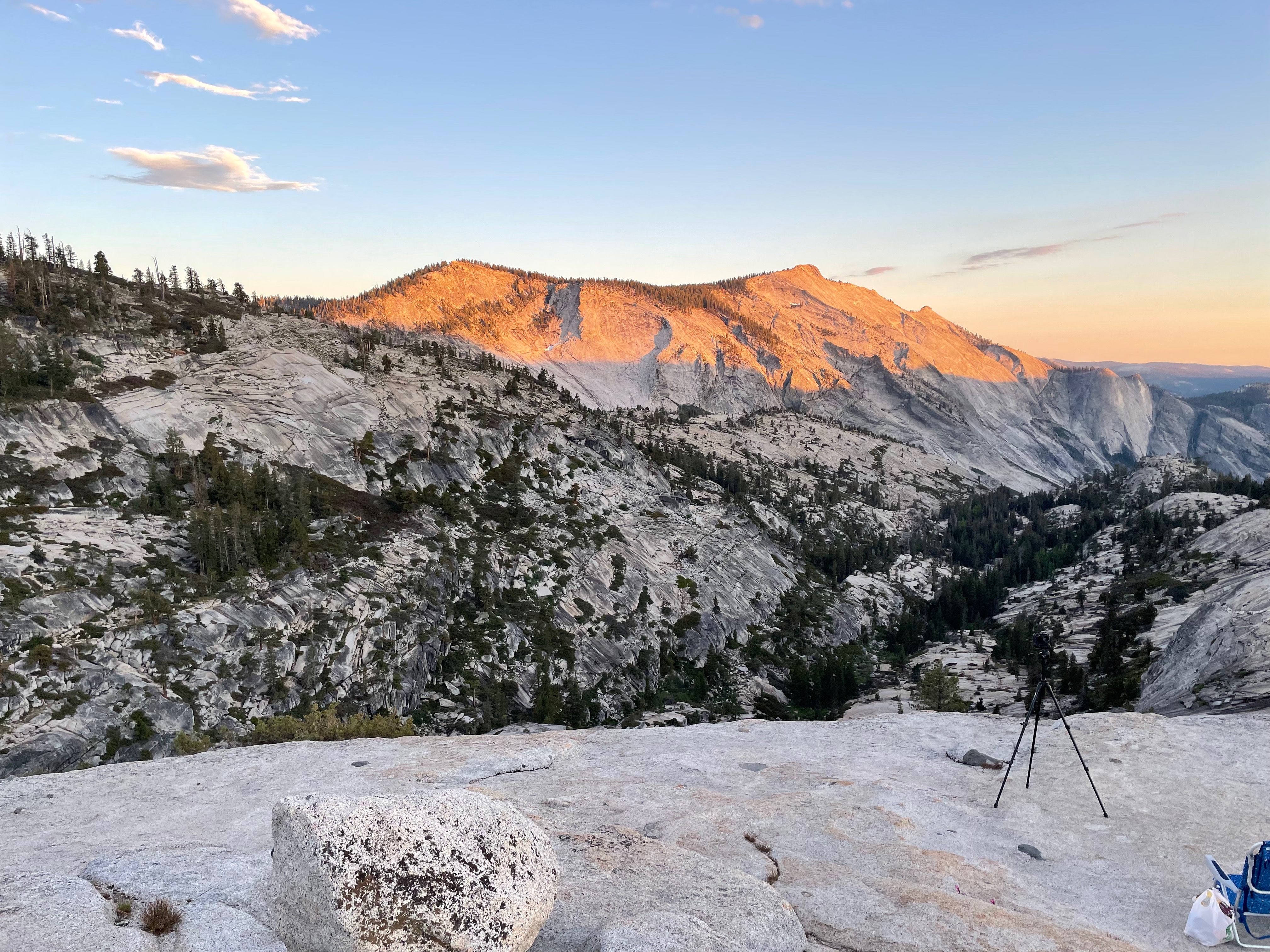 This last part was actually the worst; the trail was a bit rocky and faint in places and then the last mile or so is in a sort of marshy area, which meant mosquitos. This became especially obvious when I stopped to fish through my bag for my headlamp and they were immediately all over me in the minute or two I spent just getting it on. From here on, though, it was flat and easy, so I just cruised it in.
Nutrition #
| | Brought | Consumed | Calories |
| --- | --- | --- | --- |
| Tailwind | 10 + 4 in bottles | 12? | 2400 |
| Gels | 6 | 6 | 600 |
| Powerbars | 6 | 3 | 600 |
| M&Ms | Bag | 0 | 0 |
| Total | - | - | 3200 |
This seems a little on the light side: just a bit over 200 calories an hour and I usually aim for 300. I didn't keep as careful track as I would like but my sense is that I was on track in the beginning but then started to fall behind once my initial Tailwind ran out and I was just drinking out of the filter. It's not that bad to filter into bottles, but then it's a bit of a pain to put the Tailwind in and so you end up mostly drinking straight water and falling behind on your calories. Refilling my bottles with Tailwind at Camp 4 seems to have helped here, and the atp makes that easy.
Around 8-10 salt tabs at 215 mg each plus two caffeine pills in mid-afternoon and then the early evening. The caffeine definitely helped as the day wen on.
Retrospective #
This went well on balance. Although it's a little hard to compare because of more detours last year, I was as fast if not faster this time through the same parts (6:47 versus 7:16 to the Valley Floor and 9:31 versus 10:09 to Yosemite Point) and only slightly slower overall despite the divergent sections being much harder this time, and I felt a lot less dead when I got to Yosemite Point and at the end. This despite being alone, not having tapered, and in fact having flown in from Europe 3 days before.
I'm increasingly getting my equipment dialed in. I was already good with the poles on the uphill and I'm starting to get the hang of using them on the downhill, where I felt more stable than before. The trick seems to be to just run with them in your hands and then lightly plant them ahead of you most of the time, but then when something is tricky you're prepared to lean on them more. This helps stabilize you if you have to make an odd foot plant or if you slip a bit. I don't know if it was the poles or not, but I managed to do the entire route without falling.
I'm still sorting out the shoe situation. I've been doing my long runs in the Salomon S/LAB Ultra 3, which has pretty good support. I've mostly been racing in the slightly lighter Salomon Sense Pro 4, which are a bit more aggressive and unsupportive. I used the Sense Pro 4s last time and my ankles were pretty sore after, and I'd been hoping to convert to Salomon's new Pulsar Trail, which I like but feel just a hair too wide so my feet slip around a bit—not good for technical terrain. I'm going to experiment with cinching them down more, but hopefully the new Pulsar Trail Pro will be out soon and I can try that. Otherwise, I think it's the Ultra 3s for UTMB.
This was my first long run with my new Salomon Sense Pro 10 pack. Generally, it's nice and roomy and fits well. I'm still experimenting with the pole placement: you can bungee them to the front, which works well, but there are two positions: interior of the bottles (on your chest) or exterior (by your arms). I used the exterior position this time but I'm thinking the interior might be better. This event was right at the limit of what I'd want to carry: after 45 miles my shoulders were kind of sore. My loadout here was probably slightly more than I need for UTMB: I was carrying more or less the required kit, but also all of my food, the filter, an emergency beacon, my heavy light (Lupine Piko) and a spare battery, so there's probably some room to save a couple of pounds, especially if I'm willing to have a slightly less bright light.
Timing was a lot better: starting at 6 rather than 7 and when it got dark at 8:30ish meant I was able to do the whole thing in daylight—or at least twilight. I did pull out my headlamp towards the end but mostly just because the footing was a bit dodgy in the twilight, and I could have finished without it.
The mosquito thing was not good: every time I stopped at all I got swarmed and after I finished I had to really rush to get changed and on my way. I spent the next few days slathering myself with hydrocortisone and scratching. A lesson for next time.
Overall, though, this seems like it was well executed. I kept moving well and never really had any doubt I could finish. I dragged a bit towards the middle due to what I think is nutrition but was feeling good again at the end. I walked all the climbs but was able to run most of the flats and the downhills. There were quite a few downhill sections that were technical where a jog/walk was needed but I mostly felt like I was moving well within the limits of the terrain, which is what I was looking for.
Overall: 45.5 mi, 11237 ft, 15:04:57
---
I don't usually use music for this kind of thing, in part because it compromises your awareness, but they're good for this kind of slow grind, especially when you're solo. ↩︎