Ultra-Trail du Mont-Blanc (UTMB) Race Report
37+ hours, two nights, and three countries in the Alps
Posted by ekr on 05 Sep 2022
Probably the two most prestigious events in trail ultrarunning are the Western States Endurance Run (Western States), held in June in California, and the Ultra-Trail du Mount-Blanc (UTMB), held in August in Chamonix, France. Both are 100-mile events (UTMB is actually 171 km/107 mi) and draw the top ultradistance runners. Americans tend to know about Western States because it's older, but UTMB is much larger and fancier, with a field of over 2000 (Western is <400) and just much higher production values.
Unlike prestige events in other sports (e.g., the Hawaii Ironman or the Boston Marathon), ultras tend to rely on lotteries for admission, so ordinary runners can find themselves running on the same course with the best in the world (who get in via other mechanisms). I was lucky enough to get into the UTMB lottery this year and knew I had to give it a shot.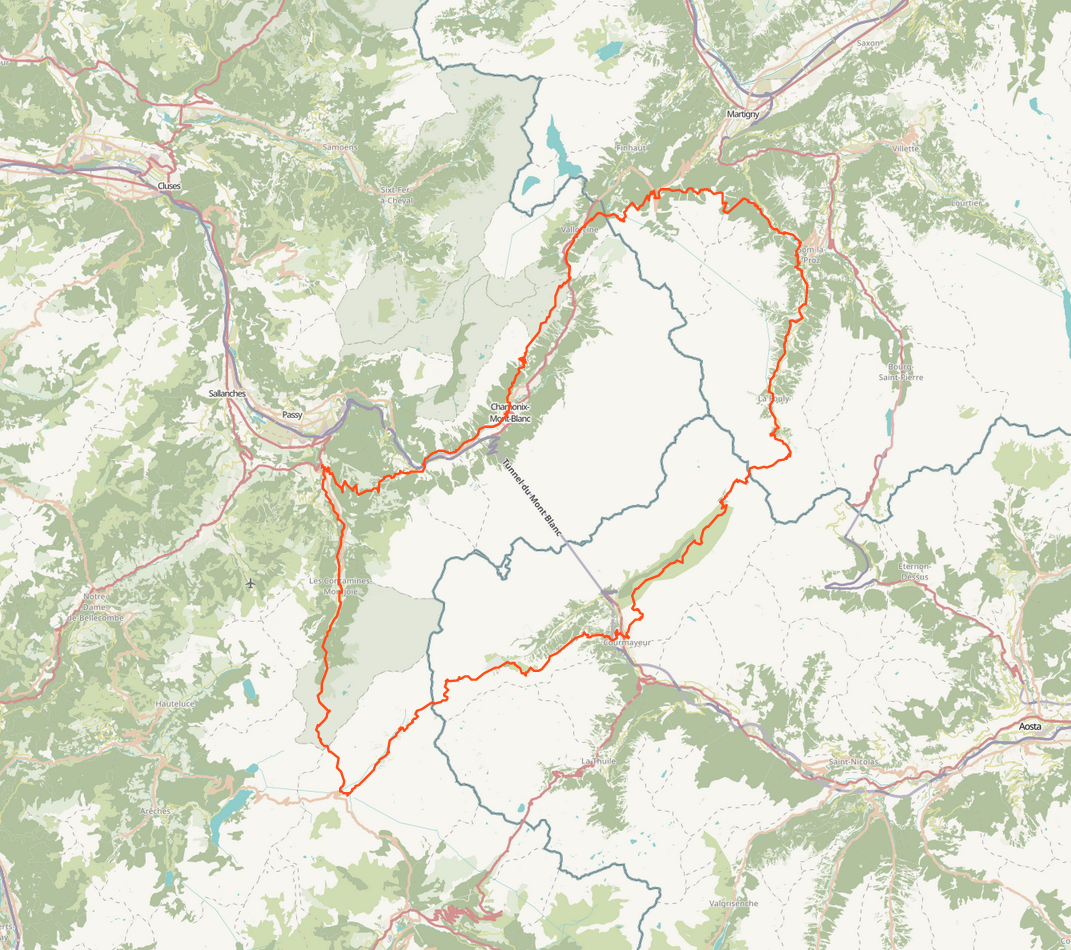 [Map and profile from Runalyze]
UTMB Races #
The naming here is incredibly confusing. First, there are actually a number of races happening the same weekend as UTMB under the UTMB umbrella, including:
| Race | Distance | Height Meters |
| --- | --- | --- |
| Ultra-Trail du Mont-Blanc (UTMB) | 171 | 10,000 |
| Courmayeur-Champex-Chamonix (CCC) | 100 | 6,100 |
| Sur les Traces des Ducs de Savoie (TDS) | 145 | 9,100 |
| Orsières-Champex-Chamonix (OCC) | 55 | 3,500 |
| Petite Trotte à Léon (PTL) | 300 | 25,000! |
Historically there have also been a number of ultra races named "Ultra-Trail ", such as Ultra-Trail Mount Fuji (UTMF) or Ultra-Trail Australia (UTA). Some, but not all, of these are now owned by UTMB in what's called the UTMB World Series, which also includes a number of races that don't have the words "ultra trail" in the name, such as Speedgoat. These are of course branded under the UTMB name, producing the confusing situation in which the races that happen in Chamonix are collectively referred to as "UTMB Mont-Blanc" and the 170 km flagship race is referred to as "UTMB Mont-Blanc - UTMB", which is to say "Ultra-Trail du Mont-Blanc Mont-Blanc - Ultra-Trail du Mont-Blanc". That's the event that I ran and what most people mean when they say "UTMB".
Finally, UTMB acquired Western States last year and is re-branding UTMB Mont-Blanc as the series "finals", with Western States as a subordinate event, though potentially one of the continental "Majors".
Qualification/Entry #
Up to and including this year, UTMB had a two-phase qualifying system. First, you had to collect enough qualifying points by doing other events. The standard this year was 10 points over 2 races, with a medium-hard hundred being 5 points and a hard hundred being 6. The interesting thing about this structure is that you actually don't need to be that good to get in: it's of course hard to run 100 miles, but in order to get the points you generally only need to finish the event, which isn't that hard if you are going to have any chance to finish UTMB, which is quite a bit harder than your average 100.
My qualification came from San Diego 100, 2019 and Pine to Palm 100, 2019. Ordinarily, you would need to qualify within two years, but because of COVID UTMB allowed people to continue their qualification through this year. I applied to UTMB back in 2019 and didn't get in, and they double your chances each time you didn't get in, so I had something like a 20% chance of admission (as an aside, I'm not sure what it says about runners that so many of us want to run 170km in the Alps that they have to run a lottery to control entry.) To be honest, I hadn't expected to get in and had the rest of my season planned out, but when you get the chance to do UTMB, you do it—or at least I do.
Race Overview #
UTMB starts in Chamonix Mont-Blanc (Chamonix) and does a big loop around Mont-Blanc, mostly following the Tour du Mont Blanc course. The total distance is listed as 171.5 km (106.6 miles) and 10000 height meters (32800 ft) (note that this is 10000 meters of climbing, so also 10000 meters of descending). The general pattern is that you climb up to some mountain pass (col), then descend back down to one of the towns in the area, then climb back out and repeat.
Although Mont-Blanc is of course quite tall (4808 meters), UTMB isn't really at altitude: Chamonix Mont-Blanc is at around 1000m (3400 ft), and you never go much above 2500m (8300 ft), which is enough to feel some effects of altitude but nowhere near as bad as (say) Tushar's Mountain, which starts at over 3000m (10000 ft). And of course, you don't usually stay at that altitude for long. With this much vert, though, you're basically always climbing or descending, and there's very little flat running, with what there is mostly in the towns along the way, and much of that on asphalt or flat dirt track.
For those of you used to US ultramarathons, UTMB has a number of big differences. First, because of the giant starting field you're almost never alone unless you're way out front or way off the back. I don't think I spent more than 5 minutes without seeing anyone during the whole event. This also means that the trails can get super congested, especially at the beginning, where it's almost impossible to pass people. Second, it's not out in the middle of nowhere, but keeps going through these small towns and refuges. Every time you run through a town—at least during the day—there are people out in the streets lining the route cheering and high fiving you. This is especially true at the start/finish in Chamonix and the early towns like Saint Gervais when people would still naturally be awake.
Next, it's a nighttime start. Most US hundreds start in the morning, so if you're a non-elite you'll run through the night after running all day. UTMB starts at 6 PM, and because it gets dark around 8:30 you're running through the night. I think this is done so that the elites will finish in the daytime: the elite men finish around 20 hrs (2 PM) and the elite women finish around 22-23 (4-5 PM). The consequence is that the non-elites are going to run through two nights and if you're reasonably fast you're going to spend more than half the race in the dark.
Next, there's crewing but no pacing. Most US hundreds will allow you to have someone run the latter part of the race with you; for instance, I'm pacing my friend and training partner Chris at Stagecoach 100 in a few weeks. UTMB doesn't allow pacing outside of short zones near the aid stations—and somewhat informally in the last 200 meters of the race or so—though, as I said above, you're never really alone anyway. It does, however, allow a single crew member, which is super-helpful, and Chris came over to crew me.
Finally, there is just an unbelievable amount of climbing, more than all but a few US races such as Ouray or Hardrock, and much of it is fairly technical by US standards, by which I mean that there are a lot of big rocks and the like that you need to navigate, and sections where it's not really runnable at all, as in I would hike it even if I were running 10 miles rather than 100. By contrast, in most US ultras you could basically run any section individually, even though end up hiking in order to conserve energy. As I understand it, UTMB is actually considered pretty non-technical by European standards, and, for instance, the companion TDS race is rather more technical. In any case, it's hard, and as discussed later, this threw me off a bit.
Based on my previous races Liverun estimated my finish time as 34:29, so I had my pace targets based on that and their projections (largely so my crew could meet me), but in the event I was pretty far off.
Pre-Race Logistics #
With the race start on Friday, I arranged to fly out Sunday, arriving on Monday. I took the overnight flight from San Francisco—using miles to buy business class so I could sleep—through London Heathrow, and then on to Geneva. From there, you can get a car to Chamonix, which takes about 60-90 minutes. This all got me to Chamonix around 11:30 PM, which wasn't too bad. I opted to get a private car (via Mountain Dropoffs) on this leg because this meant I didn't have to wait for other people and I was ensured of being able to find my driver as soon as I was ready. This all went reasonably smoothly, though wearing an N95 mask for the whole trip was fairly unpleasant, as I didn't want to get COVID right before my race.
I'd arranged to stay at the Pointe Isabelle in the center of Chamonix maybe 200m from the race start. This was very convenient because it means you can just hike over the expo or the race start, as well as being within easy walking distance of the store for every major sporting good brand (Salomon, Arc'Teryx, Patagonia, etc.). This was actually a pretty nice hotel and I'd stay there again. I got a "4 person" room which had a double bed and a bunk bed in separate rooms, which was good for when Chris arrived.
Chris arrived Thursday morning, so I had a couple days to myself and mostly just didn't do anything. I had a few easy morning runs which gave me an opportunity to check out the last few miles of the course (not easy!) and other than that I mostly just stayed in my room and read or tried to sleep. I was jet lagged of course, but as I didn't really plan to time adapt, I didn't think it was worth keeping the kind of rigid schedule that usually helps adaptation, and so I slept a bit fitfully and took a lot of naps.
A note on poles and loops #
Standard hiking poles have both a hand-grip and loops you put your hands through. You're supposed to not really grip the grips too hard and instead use the loops for leverage, which stops your hands from getting tired. The problem is that when you're running—especially downhill—you don't want your hands to be in the straps: either you hold the poles by the middle or you hold the grips but you want to be able to let go if you crash. This means you need to put your hands through the straps and also because the straps are asymmetrical, if you are holding the poles together, when you want to use them normally you need to figure out which is which. LEKI has a different engagement system in which you wear a strap on your hand permanently and there's a little piece of cord set in the loop that clips into an engagement with the pole that you can get into and out of with a button. This means you can get in and out quickly and also that the poles themselves are symmetrical, so going from carrying them to using them is faster.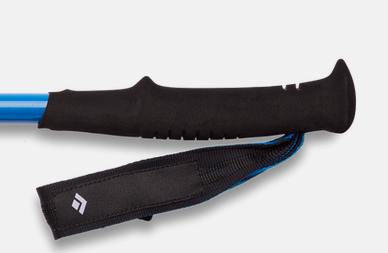 Black Diamond Handles [from the BD site]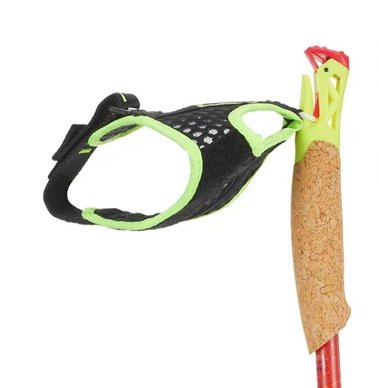 Leki Handles [from the LEKI site]
As Thursday rolled around, I started to get worried about whether I had everything I needed and ended up scrambling to get a few more things. In particular, UTMB requires you to have a long sleeve shirt and a rain jacket, but I decided I needed another layer, and ended up buying a Patagonia Houdini (last year's model, on sale for € 70). This turned out to be a great choice because it was comfortable when things were a little chilly but when my long sleeve layer (Patagonia Capilene) would have been too hot. This last-minute panic buying was actually on top of some pre-trip panic buying when I replaced my rain jacket (going to the Inov-8 Raceshell HZ and hiking poles (going to the LEKI Ultratrial FX.One Superlight, headlamp (Lupine Neo) and pole storage (Salomon Pulse Belt) ). By Thursday night I had pretty much everything, so I laid out all of my stuff, including packing my pack and the stuff Chris would need for crewing. All that was left was to pick up my packet, actually put on my race stuff, drop my drop bag, and head over to the start. Once this was done, Chris and I headed over to Annapurna II for an early dinner at 6 and then early bedtime.
Unfortunately, I ended up not sleeping well, only getting about 5 hrs. Given the 6:00 start, I figured I'd just spend as much as possible of Friday sleeping, so Chris and I went and got breakfast and then Chris headed out for his run and I went back to bed. The way that race check-in works at UTMB is that you actually have a reserved window to pick up your packet. Mine was at 1200-1400 on Friday, so I only had to be up for that and then I could go back to sleep. Chris agreed to drop off my drop bag (only after 1400!), though it probably wasn't worth bothering with, as it only shows up at the 80 km mark in Courmayeur and Chris was able to meet me there, so it was just if he got hung up and didn't make it for some reason.
Race start is 1800 but they ask you to show up at 1730. This is where being close really paid off, as we were able to just walk over quickly around 1715. Even so, the start line was just totally packed (2000+ people, remember). And you're just packed in there with everyone else. From where I was standing I could just barely see the start line and the monitors. The next 30 minutes were a bunch of announcements and videos of the pros. It started to rain sometime in here, so I ended up putting my jacket on, though it came off not too soon after. I was wearing a KN95 mask for this time: being near so many people felt risk even outside.
The Race #
Finally, the gun. Well, the start at least. Of course, at this point you're still like 100m away from the actual start and packed in super close with everyone else, so everyone's trying to run but really you're just walking almost the whole time, so you run a few steps and then have to walk again.
Once you get past the line, you're running through the streets of Chamonix which, are absolutely packed with people cheering you on, high fiving, etc. This goes on for a few kilometers until you open up onto some rolling fire roads. At this point, there are still a huge number of people on the trail with you, so if you've managed to get yourself at the wrong part of the field you're either stuck behind people or people are pushing around you. I just tried to chill out and not worry too much about position. Apparently it can get super dusty in this area in which case you want to be in front, but with the light rain this mostly wasn't an issue.
Start to Les Contamines [31.2 km, 1581+/1347-, 4:08:44, -:08] #
The first leg to Les Contamines Montjoie is pretty straightforward. Initially it's pretty smooth road and fire road that's gradually downhill. As I said above, it's pretty hard to go fast for the first 5 KM or so, but eventually it opens up enough that you can kind of find your position. By this point it had stopped raining, so I just had my jacket back in my pack.
Things start to trend upwards after about 8K, heading through Les Houches and Col de Voza. This is all pretty good even trail, so you're just comfortably hiking and I spent a bunch of it chatting with YouTuber Jeff Pelletier. Eventually you come over the pass and then it's down through Saint-Gervais and on to Les Contamines. At Saint-Gervais I got a slightly unpleasant surprise, which was that the race food wasn't what I expected.
Some background: you don't carry all your food for an ultra; instead their are aid stations which have food and drinks, which is usually a combination of "real food" like pretzels, cookies, etc. and engineered foods like sports drinks, energy bars, carbohydrate gels, etc. There are a few major companies who manufacture this stuff, so an American ultra will typically have Tailwind or Gu Roctane for the drink and Gu Roctane, Spring Energy, or something similar for the gels. I'm pretty familiar with these, and I know I can tolerate them well, but I knew that UTMB would be serving something different, specifically Overstim.
I'd ordered a variety of different Overstim products and tried them out and seemed to tolerate them OK, but I neglected to order the specific flavor of sports drink (Mojito, which turned out not to be that bad), and then the energy bar was something like a granola bar, which honestly wasn't that good. Fortunately, I brought a bunch of my own stuff—mostly Spring Energy gels and Tailwind drink, so I wasn't entirely dependent on them, but it would have been a lot more convenient to just graze at the aid stations. They did, however, have mini Mars bars (in Europe that basically means a Milky Way), and I could foresee a lot of them in my future.
The run into Saint-Gervais is pretty great: it's late evening so everyone is out on the streets cheering you on, plus you're only a few hours in so you're still feeling good, which is not going to be the situation later. At this point, though, it's like you're a pro.
There's a relatively long gradual climb out to Les Contamines, which is still pretty easy. Contamines is the first aid station where you're allowed to have crew, so Chris was there. The whole setup was a little confusing, but eventually we met up and I switch my bottles, grabbed some more gels and Tailwind powder, and headed back out.
Contamines to Courmayeur [49.6 km, +3019/-3094, 10:35:31, +:41] #
This is a super long stretch consisting of two big climbs, first up to the Refuge de la Croix Du Bonhomme, and the to the Col de La Seigne and then a smaller 500m climb to the Arête du Mont-Favre before finally down into Courmayeur.
These are some serious climbs. First, they're long and steep, with 1200m of climbing to the Refuge followed by almost 1000m to the Col de la Seigne. Worse yet, they're rocky and it's not just a matter of your ability to just put out raw power, like in an Ironman or a marathon, because you're constantly having to adjust your stride or step higher than you naturally want to. Of course you're hiking all the uphills—and even that is hard work—but then the downhills are rocky and technical—and of course it's dark—so you're not able to move that fast on them either, even if you have a good headlamp.
I actually had a couple of small slips on the downhills, including one where my foot slipped off the shoulder of the trail and I twisted my knee a bit. I was a bit worried that was going to end my race right there, but actually I was able to run it off, so that was OK.
In addition, even though it was dark it still pretty humid for a lot of this, which slows you down itself. Bottom line, by the time I rolled into Courmayeur I was a lot more tired than I wanted to be at this point in the race. Usually you really want to take the first half of a hundred quite easy because the second half is going to be hard no matter what, but I'd already had to work quite a bit more than I had planned.
Chris met me at Courmayeur and we did the usual bottle swap and extra food thing. I also cleaned my feet, re-lubed them, and changed my socks. Things weren't actually bad here, but it's good not to take any chances. Chris had brought some Tailwind Recovery drink (higher calories, more protein), and I was able to drink that while I was doing this stuff. Taste-wise, this was a nice change, but at this point I was starting to feel the first hints of nausea and it sat a little heavy in my stomach. All of this took quite a bit longer than I was hoping for, especially as I had to do some waiting around, so I was out in 27 minutes, 1:08 behind. Ironically, I actually seem to have spent less time in this aid station than others, as I seem to have come in in 892nd and left in 772nd.
Courmayeur to Champex-Lac [45.9 km, +2720/-2558, 10:17, +1:30] #
This section starts with a very steep climb of 805m/4km out of Courmayeur to Refuge Bertone. This climb wasn't so bad—just the usual "are we there yet" stuff— but right after I hit the aid station at the top I just started to feel incredibly wiped out. It was starting to get hot and I just sat in the shade for a while and tried to pull myself together, with only modest success.
I spent a lot of the next few kilometers just hiking and trying to run a bit. This is unfortunate because this section (through to Arnouvaz) is some of the most runnable of the course, just rolling and smooth, so I was losing a lot of time. Eventually I just sat at the side of the trail and tried to recover. At this point I realized I probably need to start on caffeine—I had been hoping to wait until night—so I took some caffeine and (I think) some salt. This picked me up some and I was able to keep going.
I don't really remember the climb out of Arnouvaz to Grand Col Ferret (745 D+) and mostly remember just kind of suffering through it and then the descent to La Fouly. By this point I was pretty nauseated: I never really vomited but none of my food felt appetizing and every time I started to run I would notice that I felt worse. At this point I hooked up with another American runner and we did about 5K together (Steve, IIRC), just taking it really casual. We were both way off our pace targets (him 30ish and me 34ish) and our stomachs had turned, so we just tried to take it easy. Steve mentioned that he'd been at a talk the day before about how it was worth trying to take a short nap if you were going to be much over 30 hrs, so I decided to try to do that at Champex.
The La Fouly to Champex-Lac section is deceptively long: there's a long slow downhill from La Fouly which is mostly on dirt and then road, so theoretically runnable (here again, I wasn't running as much and so losing time), followed by the climb to Champex, where Chris was waiting. The climb isn't that technical and I started to feel better once I got on it and was able to push some without it jostling my stomach (also it was starting to get later in the afternoon). It helps that the climb isn't really that long and kind of shaded.
Met up with Chris again, more Tailwind Recovery, and we refilled everything. Sure enough, there was a tent with mattresses and I did try for 15 min, but I wasn't able to sleep at all. Eventually, I gave up, but did take advantage of the mostly quiet tent to change my shirt and hat, as everything was all sweaty and I wanted it dry for the evening.
Champex-Lac to Trient [16.2 km, +914/-1088, 4:35, +2:09] #
The rest of the course is three big climbs and descents, with crew at the end of each (well, the last one is the finish), so it was just a matter of getting through each.
The first of these is Champex-Lac to Trient. This was probably objectively the hardest of the three, not so much because of the vert (over 800M+) but because it's really rocky and steep, so it's hard to find your pace because you're constantly having high step, etc. The downhill doesn't get much better either because it's just rocky and rooty, so I (at least) couldn't go that fast and there was a lot of intermittent hike/running when I should have been running.
Arrived Trient in the dark and it's rinse repeat from here: Tailwind recovery, new bottles, and go. Still nauseated here, but it was kind of under control.
Trient to Vallorcine [8.9km, +836/-875, 3:10, +2:39] #
This was probably the best of the last three climbs: it was the least technical and so you could mostly just motor up it, and I felt pretty OK until partway up when I started to have some serious bathroom issues. The trail was pretty wide but was uphill face on one side and drop-off on the other but I was finally able to find a section where I could go downslope a bit, hang onto the hillside, and go. Thanks to whoever gave me a hand getting back up after I was done. Took a couple of immodium here, which seemed to help, at least as far as Vallorcine.
Not too much to report about this section. Just something I had to get through to make the final climb. Was relieved when I got to Vallorcine and met Chris for the final time. Did the usual aid station thing and was also able to bum some salt tablets off a fellow runner as I was running out, as well as some napkins to use as toilet paper off of the med workers.
At this point I decided to swap drinks: I'd been drinking Tailwind or Overstim the whole time but I'd brought some Maurten powder and poured that into my bottles for the last push. Maurten is a hydrogel formula designed to reduce GI distress and also comes in a 320cal/500ml formulation (Tailwind is 200), which means that you don't really need to eat anything, which I was looking forward to at this point. It's got a bit of an off-putting slimy texture, which is part of why I didn't want to use it the whole time, but at this point that seemed pretty good.
Vallorcine to Finish [18.5km, +972/-1200, 4:36, +3:20] #
This last section was a real mixed bag. You start out on some flat segments and then there's a longish gradual uphill. I felt great on this: it was very smoothly terrain and just a few percent grade so I pulled out the poles, put in the headphones, and power hiked at a nice hard pace, with the result that I was passing people left and right, in part because some of them were clearly dying but also because I was moving fast. This continued into about partway through the main climb, even as it turned into a series of rock steps.
Then about 1/3 of the way up, my bathroom issues returned. I was eventually able to get a little bit off the trail and go but a lot of people passed me during this section and I somehow never regained my momentum. In theory these were people who were behind me, and so I should have re-passed them, but in practice, it just wasn't that easy.
This section felt unbelievably long, mostly because you're just not moving at all fast due to the terrain. Once you finally get near the top you have to pick your way through a boulder field, which is really slow going, at least for me. Eventually, I made it to La Tête aux Vents, and from there it's mostly flattish to La Flégère, albeit quite rocky. Here too, it was tough to run, though some people with better footwork than I tore past me. I actually fell once here and landed hard on my arm. After that I put my poles away. Here's Jim Walmsley on this section, not looking very fast. There's a final tiny climb to La Flégère. Not worth taking out my poles and I just did it hands on knees to the aid station. It's all downhill from here and I had plenty of food and fluid so I didn't bother to stop and just headed back down.
At this point, my focus was on a sub 38 finish (well short of my target, but oh well). It's supposedly 8K down to the finish and I left La Flégère at 36:48, so I needed to run 9:00/km to get there on time. This doesn't sound very fast, but of course at this point you're tired. The initial descent out of La Flégère is on fire road and so I was able to hit it pretty fast. Even so, when my 37:00 timer fired, I was 1.2km out, and 10:00/mi wasn't going to do it. We fairly quickly got off fire road and into some very switchbacked single track, which slowed things down further.
I'd reconned the last 4K or so of the course, so I knew that it turned into runnable fire road and then smooth trail and road about 3K out, so I mostly just needed to survive the single track (without crashing!) and get to the part where I could work. I figured I needed to hit 37:30 with <4K to go in order to be on target, so I pushed as much as I dared. The pace wasn't bad, and I passed a few people, including some PTL finishers (the real heroes) but I definitely had a few braver—or more agile—people tear by me. I hit 37:30 at 3.8K or so, which was behind schedule, but I knew that I was getting close to the really runnable section so I just held on. I had plenty of gas here, I just wasn't able to run faster safely.
Finally I hit the fire road and was able to really open up some, even though it was kind of steep and rocky. Then there's a final switchbacky portion that I'd run before—though the course actually just goes straight downhill across a bunch of the switchbacks—and then out onto the road, or rather onto this terrifyingly rickety and slippery metal bridge that the race had erected over the road, and then finally onto dirt trail.
I looked at my watch and it was 37:40 and I figured it was less than 2K of flat running to go (actually more like a K, as it turned out) so things were probably OK if I didn't dawdle. As I said above, I had plenty left because I'd been running the equivalent of recovery pace for the last hour or so, so I felt comfortable pouring on the gas, or whatever gas I had left, and I ran the last half mile in 8:49 (which felt like 7:00), passing maybe 3 or 4 people in that last section. Once I realized I was so close and actually might go sub 37:50, I started pushing even harder. This is helped by the fact the in the last quarter mile you're running through Chamonix proper and everyone's cheering you on, even before 8 in the morning.
This time I learned my lesson about the kind of photos you get when you stop right at the finish line (like you're just standing there fiddling with your watch) and ran all the way through to finish in 37:49:49.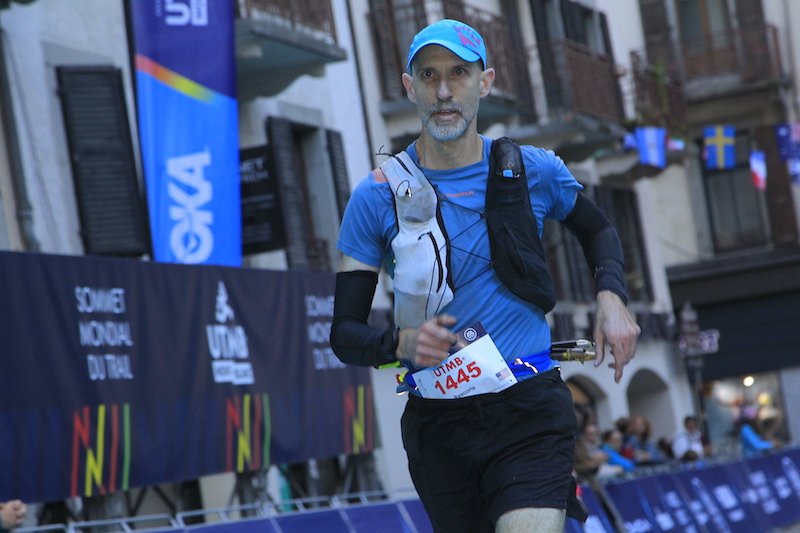 The best race picture ever taken of me [official race picture]
Event Review #
UTMB is an odd mix of very high production values—probably the best I've ever seen—and confusing organization.
On the good side, the support is fantastic and they have done a good job with a bunch of small things. For instance, there is solid live tracking of where runners are that helps your crew and then after the fact you can get really good data about your performance, including your pace and position at every checkpoint as well as links to videos of when you went through. For instance, here's me coming through the finish. Pretty glad to see I'm still running at this point. Another nice touch is that they give you a number for the back of your pack with your name and nationality on it so that people can talk to you when coming up from behind. And, of course, just having it be such a giant event with so many spectators is a great energy.
On the bad side, the communications and logistics can be pretty confusing. For example, the rules require you to carry "Minimum water supply: at least 1 liter". Does this mean you need to carry 1l at all times, in which case you would actually need to carry 2l out of the aid station so you had something to drink, or that you just need 1l worth of bottles? Who knows. Everyone seems to think it's the second. Another example is that they require "ID – passport/ID card". I'm not an EU citizen so do I need a passport? Apparently not; at least I didn't bring one. Similarly, it was hard to learn about the schedule for crew to be bused around. These are small points, of course, but it's just friction that adds up and is a bit surprising with an event that is otherwise well run.
Overall, though, this is a great event and I would definitely encourage anyone who was interested in European ultrarunning to check it out. Of course, it's also really hard to get into, so I can also recommend the Innsbruck Alpine Trail Festival, which is similar-ish terrain (though easier) and you can just sign up.
Retrospective #
This feels like one of those races that could have gone better. It's possible that 34:29 was optimistic and certainly I ran some of it with other people with strong track records who were nowhere near their target times. On the other hand, I feel like there was a fair amount of room for improvement.
Nutrition #
What went well here was that I stayed on my nutrition plan. I planned to drink 250ml of sports drink every 30 minutes and then eat 100cal of something else every hour,for a total of 300 cal/hr, plus whatever I consumed in aid stations. I didn't hit that perfectly, but I was fairly close. Same with the plan to drink Tailwind Recovery in aid stations, which worked well, as by that point that chocolate taste was about all I wanted. The end result was that I never really bonked at all.
On the other hand, I was nauseated a lot of the event and that stopped my from running when I should have. I probably needed to do some adaptation here and try to figure out how to debug it rather than just slow down and walk through it. This is always a tough one, but probably I needed to switch out what I was eating earlier. I had brought mostly Spring Cannaberry, which I usually like, but about halfway through I didn't want any more. I had brought some Powergel Strawberry/Banana, which usually I lose the taste for half-way (ironically, preferring Spring), but this time I liked it at the halfway-type point and wished I had more; unfortunately due to a snafu with my drop bag, I only had about two of these as opposed to the 5 or so I actually brought.
I think part of the problem here was running low on salt: Hydrixir long distance has about half as much sodium as Tailwind (333mg/500ml as opposed to 620mg/500ml). I found myself wanting salt and I did have salt tablets, but I don't think I got on this early enough, and the SaltStick caps I am using only have 215mg of sodium, so you need to take a lot of them to catch up for that deficit. I did have some soup early and that tasted good so it probably should have been a hint that I needed to be more aggressive about sodium. Next time, probably I need a schedule for salt intake.
In retrospect, I wish I had just assumed I wasn't going to eat any of the race food and just use the race drink, and then I could have just planned all my eating and not had to think about it. That would have reduced cognitive load.
Aid Stations #
I spent too much time in aid stations. Enough said. I was tired, but that's when you have to just get in and out. The data says like 1:40, and I should be able to get that down to less than an hour.
Pacing #
I think my pacing was pretty OK here. I felt like I did a pretty good job of not pushing the first half too hard most of the time. If you look at the graph of my position in the race, I was mostly flat through the first half, and then got gradually better after Courmayeur and especially Arnouvaz:

[From the UTMB site]
This looks like pretty good pacing, although it also has me falling further behind LiveRun's projections as time goes on rather than as I sort of assumed, losing time initially and then holding on.
There are several places I'm not happy here. First, I felt like I was working too hard on the early climbs. Basically, they were just too steep to take it easy on. Second, I should probably have pushed harder in the flat runnable section after Refuge Bertone then down from La Fouly. There were reasons, but I think it would have been better to push. These are kind of opposites, but I think that's right: you want to take the uphills easier early and then the downhills faster to take advantage of it.
Finally, as a result of my inability to run the technical downhills hard, I actually wasn't as tired at the end as I otherwise would have been, which is why I was able to dig for the last kilometer or two. I could have done that for quite a bit longer and would have started earlier if I hadn't been worried about my footing. Maybe this is a signal I should have pushed more of the uphills on the theory that I could recover on the downhills, but if you're really tired at the top, your chance of tripping goes up.
Training #
Some of this goes back to my training. I feel like my fitness was good as evidenced by various workouts, but there are two places where I think more specificity would have paid off.
First, I wish I'd done more hiking on difficult courses. I did a lot of training at similar grade ratios (~60m/km) but it was mostly on smooth courses where I could run the whole thing. Even when I hiked it was mostly on courses where I could have run. The few times I did something really hard (Yosemite, Mount Diablo), it slowed me down a lot. The result was that I wasn't able to initially take those difficult climbs as easily as I wanted while still making progress and then later to really push them without getting exhausted.
Second, I need to spend more time running technical downhills. I've gotten good enough to go fast when it's non-technical but as soon as it got rocky or rooty, a lot of people were going past me a lot. This was really noticeable in descents that had a mix of single track and fire road because I'd get passed on the former and pass on the latter.
On the other hand, UTMB is probably one of the few races like this I'm really going to run—just say no to TDS—so this may not be a piece of specificity I need so much in the future.
Overall #
Overall, this wasn't a big success but it could have been a lot worse. I finished in good order and while I had some bad spots I never had anything where I really cratered. I didn't get injured, I'm back to running a bit already, and I've built up a lot of fitness that I can use later in the season. Plus, I've got some cool UTMB gear to wear to other races.
Finally, I want to really thank Chris for flying over and crewing me. It made an enormous difference.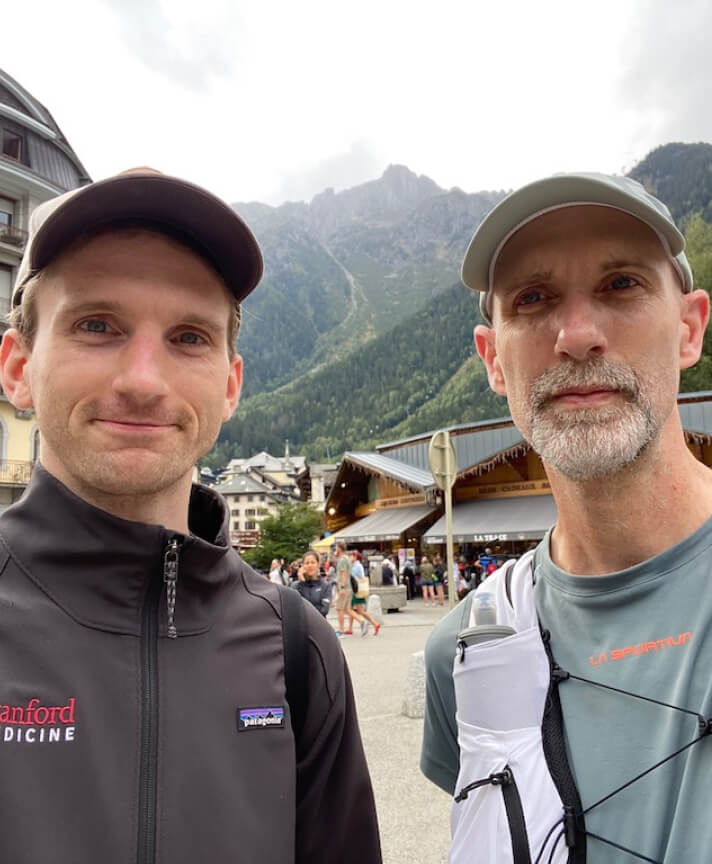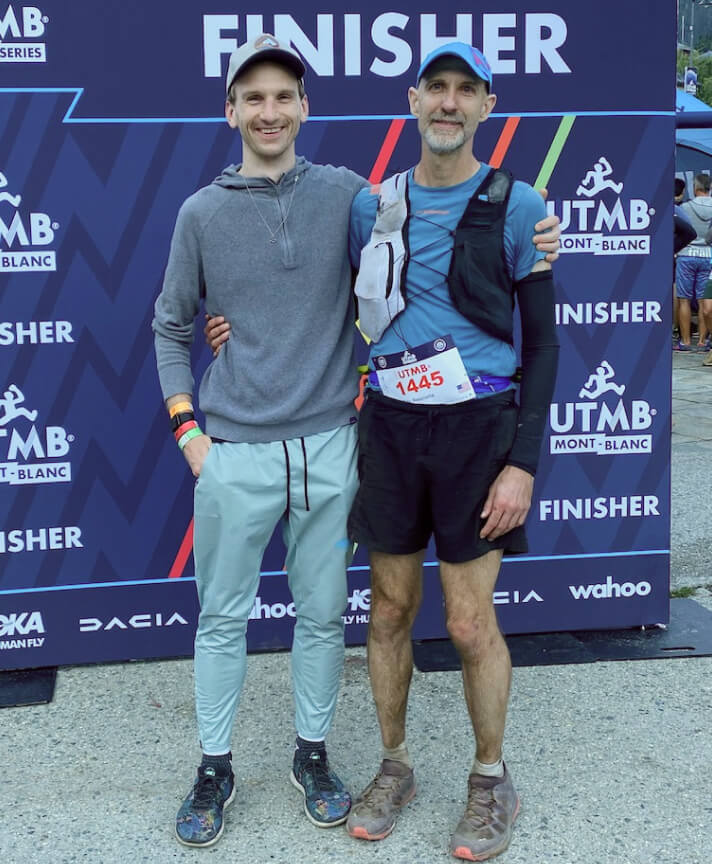 [These photos helpfully taken by strangers with Chris Wood's phone.]

Overall: 37:49:49, 623/1789 finishers (838 DNF),